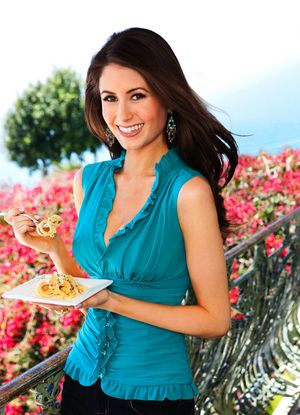 First breaking onto the culinary scene as the only vegan chef to capture the top prize on Food Network's Cupcake Wars in 2010, Chloe Coscarelli (www.chefchloe.com) has since been turning heads, bringing mouth-watering, meat-free dishes to the mainstream. Chloe is the new face of vegan cooking alluring foodies with her accessible and delicious recipes.

Chloe's goal is to reach everyone – not just those dedicated to a strict vegan diet. She is squashing the myth that vegan cooking is bland, visually unappetizing and full of sprouts! In Chloe's kitchen, vegan recipes are enticing, easy to follow, and use ingredients that can be found at any supermarket. Whether you are striving to lower your cholesterol or seeking a low-fat, animal-free meal, vegan cooking can be attainable and tasty. Chloe's repertoire of original, delectable recipes boasts implausible dishes like Mac 'N' Cheese, Mexicali Sliders, Vegan Goldfish Crackers, Chocolate-Dipped Ice Cream Sandwiches, Crispy Vegetable Tempura, Chocolate Molten Lava Cake and Creamy Fettuccine Alfredo.

Chloe is a lifelong vegetarian and a vegan since 2005. She initially steered away from meat as a child due to her love for animals. Her pets were hugely important to her, and she instinctively knew eating meat did not feel right. At 17, Chloe took a step further and chose to pursue a vegan lifestyle – meaning no animal products of any kind including dairy and eggs. While some might feel trapped with such a limited diet, Chloe only saw new possibilities and began experimenting with ingredients and recipes she hadn't previously considered. Chloe's mother, father, and brother, who make up her unofficial recipe testing team, support her vegan lifestyle – all holiday meals are vegan because they love Chloe's cooking so much.

Chloe honed her culinary skill at The Natural Gourmet Institute of Health and Culinary Arts in New York City, which she attended after graduating from the University of California, Berkeley. She also completed Cornell University's Plant-based Nutrition program based on Dr. T. Colin Campbell's The China Study. Chloe gained additional experience working for the pastry chef, Anne Baptiste, at the notable Millennium Restaurant in San Francisco. Chloe was so inspired by the restaurant's gourmet vegetarian mission; she joined the team and gained much of her culinary acumen and confidence from Anne, who she considers a role model.

Chloe's vegan cookbook, Chloe's Kitchen features 125 recipes and photos of each dish.  Chloe is involved with her local animal rescue groups and loves staying active through dance, yoga, and exhale's Core Fusion.
Read the Full Bio +
Hide the Full Bio -