Behind The Purple Door: A Wild Week in PR Part 2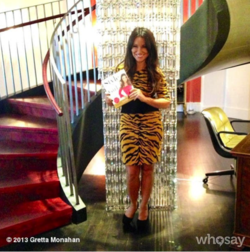 Welcome back for Part 2 of our 'Wild Week in PR' series!
Earlier this week, we showed you behind-the-scenes photos from several television segments with our clients Catherine McCord, Ingrid Hoffmann and Curtis Stone. This time we're showing you some of the most exciting moments throughout Gretta Monahan's book launch for Style and the Successful Girl. From Good Morning America to one of the finest salons in NYC, here's a look some of the work we accomplished with the fashionable and fabulous Gretta Monahan.
To celebrate the launch of Gretta's book, Style and the Successful Girl, the style guru served up some fierce five-minute makeovers on shows like Good Morning America, The Couch, and Good Day New York. Joining her on-camera were several of our very own Brookettes, who stepped in when they were needed as models for each segment. As we've come to realize, modeling clothes or products on television segments is a rite-of-passage when becoming a publicist, and our girls were naturals!
On Good Morning America, she showed us how to transform our look no matter what style we have. Check out the video clip here for fabulous fashion looks: http://gma.yahoo.com/video/minute-makeovers-transform-look-life-131112704.html
Gretta sat with Jodi Applegate and Chrissy Tiegen to share style tips and tricks. Ready to master your wardrobe? Watch here: http://newyork.cbslocal.com/video/9379409-5-minute-makeovers-easy-tweaks-to-boost-your-look/?utm_source=hootsuite&utm_campaign=hootsuite.
While in Chicago for her book signing, Gretta gave this lucky lady a makeover at Block 37 Shops.
Good Day NY welcomed Gretta as she taught us all about style IDs: Weekend Girl, Sexy Girl, Girly Girl, and Sophisticated Girl. Which one are you?http://newyork.cbslocal.com/video/9379409-5-minute-makeovers-easy-tweaks-to-boost-your-look/
Pre-show primping with Gretta, Lindsey and Lindsay.
Exemplary models of Successful Girls.
Special thanks to Chef Alina E and Sweet Worcester for making these beautiful cupcakes for Gretta. They look almost too good to eat…almost.
Finally, we celebrated Gretta's book launch at the luxurious and stunning Erno Laszlow salon here in NYC.  Congratulations, Gretta!
Be sure to snag your own copy of Style and the Successful Girl in stores or online here: http://styleandthesuccessfulgirl.com/.
For even more behind-the-scenes photos and updates from The Brooks Group, follow us on Twitter, Instagram, Facebook and Pinterest!