What's Buzzing at The Brooks Group?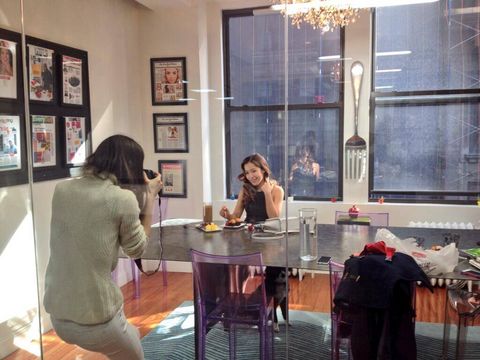 Want to know what's been buzzing at The Brooks Group lately? We're recapping a few of our favorite moments with Michelle Phan, Curtis Stone, Ingrid Hoffmann, Jacques Torres and Alina Eisenhauer. Check out what we've been up to behind the purple door.
We spent the day with YouTube star and beauty entrepreneur Michelle Phan while she conducted several interviews and photo shoots. The inspirational Internet maven dished to The New Potato about her favorite places to eat, everyday beauty routine and even talked about the character she'd love to recreate. Want to get the scoop? Read her article here. Want to get inspired? Watch her YouTube videos here.
Ingrid Hoffmann visited the Today Show team and demonstrated the top 5 kitchen tips everyone should know. Check out Ingrid's foolproof tips: http://www.today.com/video/today/53541993#53541993.
The Chew Crew welcomed Curtis Stone in his first week as a regular guest co-host. Curtis served up several dishes that are perfect for holiday dinners, including this savory cobbler recipe: http://abc.go.com/shows/the-chew/videos/PL55125609/_m_VDKA0_gcyo64h5
Rebecca went down to Florida with Curtis and Ingrid to the HSN Enjoy Arts and Tastes Food and Wine Festival. The festival included unique experiences including live cooking demonstrations, Sip, Savor and Swing, a Latin-inspired swing dance celebration and a few visits to party and sell on HSN.
We brought a food editor to visit Jacques Torres's new 40,000 square foot factory in Brooklyn. This is his latest masterpiece!
Chef Alina Eisenhauer recently moved her Sweet Kitchen and Bar into a new location on Worcester's Restaurant Row. The new space is four times the size of the original Sweet and pays homage to Alina's favorite Atlanta and Chicago-based restaurants with a shabby-chic open concept design. Sweet now features two floors: a main room that is home to her bakery during the day and dessert cocktail bar at night and a loungey second floor for private events and functions.
If you're in the area, stop by 72 Shrewsbury Street for any of Chef Alina's goodies- from award winning cupcakes and one-of-a kind designer cakes over 35 martini drinks and Chef Alina's delectable Dosant (yes, the original – before the cronut was invented)!
Find out more about the new location on masslive.com: http://www.masslive.com/news/worcester/index.ssf/2013/11/worcester_restaurant_hits_a_sw.html
For daily updates, photos and announcements from behind the purple door, be sure to follow us on Twitter, Facebook, Pinterest and Instagram.