Respect The Strudel: Sarabeth Levine Amazes Editors With Her Recipe, Tips and Grace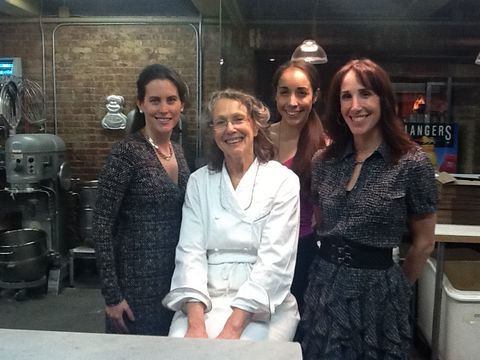 We invited a small group of editors from InStyle, O, The Oprah Magazine, Ladies' Home Journal, Daily Meal and Woman's Day to meet Sarabeth (www.sarabeth.com) and have a personal baking lesson.  She could have made cookies, muffins or cupcakes, but thought it would be meaningful to teach them the lost art of making apple strudel.
Before the festivities begin, SB's PR team snaps a photo
Once the editors arrive, SB presents an overview of her brand and how she 'fell' into the business – it was the best accident that could have ever happened!  For a complete overview click here.
SB begins by making the dough by hand (never with a machine) – she works it for 10 minutes till it blisters then lets it rest for 30 minutes.  SB Tip – when stretching the dough always work with fingers parallel or down…if fingers are up the dough will rip!
We were entranced by the way SB gracefully stretched the dough – she does it with love and makes it look effortless.
To effectively roll and stretch the dough, SB spreads out a tablecloth, lightly flours it and begins rolling and stretching it with weights…yes, weights!
SB loves to shop for baking tools at yard sales and flea markets – one of her favorites is a 1955 rolling pin with a red Bakelite handle – she uses it every day.
SB preps the filling which includes chopped apples, sugar, vanilla bean and almond extract – light, fresh and delicious!
SB tip – gently pat a thin layer of melted butter on the dough with hands instead of a brush, then sprinkle cookie crumbs and a layer of toasted almonds on top.
SB places the apple mixture along the edge of the dough
Amazingly SB uses the table cloth to roll the dough and then gently place it on the baking pan.
The best part….tasting!
Since we're talking apples…we also recommend SB's Rustic Apple Pie.