Nightline, Queen Latifah, Today, Oh My! ? A Wild Week in Television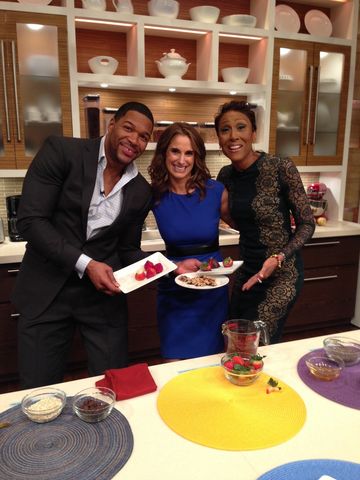 The Brooks Group is back in action – we had a week filled with live and taped TV shoots.  Here's a glimpse Behind The Purple Door.
Kelsey appeared on Today with Kathie Lee & Hoda for their ongoing "Who Knew?" segment.  The topic was "Trivia to a T" and they chatted about everything from the T in Boston to a T formation in football.
The ABC News Nightline crew visited digital entrepreneur, Michelle  at her Los Angeles studio to discuss her career –  from her humble beginnings as a waitress, to her successes on YouTube as the second most subscribed to woman. Correspondent David Wright got a behind-the-scenes look into Michelle's 'Rihanna' video tutorial shoot, as well as the chance to browse the YouTube phenomenon's favorite Japanese cosmetic store.
Dr. Oz challenged chocolatier Jacques Torres to substitute coconut palm sugar in place of regular sugar for a healthier spin on one of his confections recipes. The studio audience was lucky enough to get in on the action and they all went home with a treat. You can watch the clip here.
Uncle Jack's Steakhouse Owner and Restaurant Stakeout star Willie Degel's trip to The Daily Meal left the staff full and satisfied. Willie charred and served 3 New York strips for the team after he shot this tutorial video about tips and tricks for cooking steak to perfection.
Yahoo! – Daily Shot with Ali Wentworth: Willie popped by Yahoo! to chat with Ali about "how to cook the perfect steak." Two biggest mistakes home cooks make include flipping the steak too many times and over seasoning.  Click their interview which was one of the top trending articles on the Yahoo! homepage.
Nadia, the stiletto-strutting host of Cooking Channel's Bitchin Kitchen and ulive's Sick Kitchens, stopped by The Queen Latifah Show to share her go-to Italian dishes. Inspired by her boisterous Italian family of cooks and caterers, Nadia whipped up Penne al Forno and Ricotta Crepes. Nadia also shared her cooking philosophy- "Don't be afraid to make a mess. You got to fall off that horse a few times before you can make tartare out of it."
Gretta Monahan, the style guru from the Rachael Ray Show and author of Style and The Successful Girl helped women lighten their load in Good Morning America's "Purse Purge." Gretta challenged participants to empty their handbags and gave them 20 seconds to choose only the essential items to carry. All women were rewarded with bags from cinda b to start their new "lighter" life.
Mitzi, America's Nutrition Expert, sat down with Julie Banderas for a FoxNews.com Health Talk segment.  She shared the inspiration behind her new book, The Pinterest Diet: How to Pin Your Way Thin, including her top Pinterest boards that support weight loss.
Mitzi  also had a blast sharing her expertise at Live! With Kelly and Michael on Friday morning. For the final day of the show's "Kick Start the New Year" week, Mitzi shared her favorite healthy dessert swaps with Michael and guest host, Robin Roberts.  Mitzi taught viewers how to take their favorite traditional desserts-filled with fat and calories- and make them healthier without sacrificing flavor.