Valentine's Day Make Over Series on GMA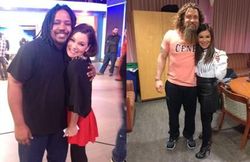 Just in time for Valentine's Day, we secured an exciting opportunity to team up with Good Morning America, the country's number one morning show, for two unforgettable makeovers.  Our favorite style-guru, Gretta Monahan, led the show's "beauty dream team" as they answered the calls of two desperate wives to "Make Over My Man for Valentine's Day!"
Our first candidate was self-described caveman and Crossfit Gym owner, Arron. Since his wife Kelly had not seen her husband's face for 3 years, she asked for some grooming guidance. After 60 minutes of snipping, shaving and re-styling, the full transformation was revealed and Kelly and Arron were both speechless upon seeing the remarkable results for the first time.
Obie, our second subject, has two full time jobs- by day, he is a delivery driver, and by night, an extremely dedicated father of four. Spending all his time and energy to support and care for his family, Obie had little time to spend on himself and was in serious need of a makeover. He definitely got the full treatment and he stunned viewers and his wife, Erica, as he stepped out of the GMA time machine rocking his new look.
To learn more about the makeovers and check out expert men's style tips from the GMA Beauty Dream Team, check out the full stories, here.