Wine & Food Festival 2016 Recap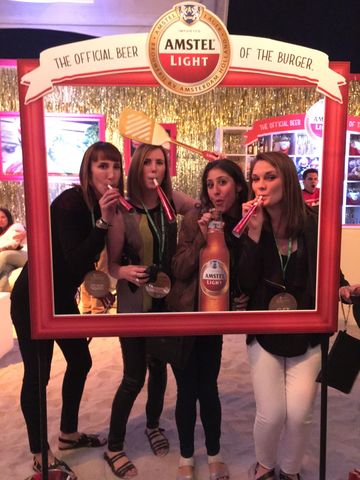 The South Beach Wine & Food Festival is one of the most anticipated events of the year. Not only does it bring together the most talented chefs from around the country, but it does so with the incredible backdrop of beautiful South Beach, Miami – offering  a much-needed escape from the depths of the New York City winter.  While 2016 was the 15th anniversary of the SOBEWFF (and Rebecca's 14th year in attendance), Lindsay and Lindsey of the BG team had the opportunity to experience the festivities for the first time.
The Lindsay/ey's were thrilled to join Rebecca and Jess on their annual pilgrimage to South Beach. Our three-day jaunt was packed with lots of sunshine, back-to-back client events, endless food sampling and countless espressos to keep us going. Read on to get a taste of our experience…
We officially kicked off the festival on Thursday night at Barilla's Italian Bites on the Beach and then were off to chow down on tacos and tequila at Tacos After Dark, where we ran in to the lovely Amanda Freitag.  Her Hot Chicken Taco stole the show.
We closed out the night at the WME Chef Kick-off Party. From dancers floating across the pool in giant bubbles and a ton of familiar faces to a signature cocktail and Pat LaFrieda's finest on the grill, the event did not disappoint.
On Saturday, we woke up bright and early for some green juice and of course, a workout on the beach. There is nothing like sand and sunshine to make breaking a sweat more enjoyable. After an invigorating start to the day, we were off for a marathon of meetings and events, starting with a spin around the Grand Tasting Village to chat with the lovely Ingrid Hoffmann at her Barilla demo space.
After back to back meetings, we were off to one of the highlights of the weekend, Burger Bash, where we started with Andrew Zimmern in his Red Robin lounge, and then ate our way through the tent.  Highlights of the night included Morimoto's chicken fried burger and Toro's tender burger accessorized with tortilla chips.
Saturday began with Duff Goldman's Focaccia demo at the Grand Tasting. The audience loved it and the bread was (literally) flying off the stage.
We spotted a few familiar faces in the green room as we eagerly awaited Guy Fieri's Boiling Point game show with contestant, Amanda Freitag. Tensions ran high as she and her fellow contestants had no idea what they were about to get themselves into, and Guy wasn't sharing any of his secrets.
A mere twenty minutes later, Boiling Point contestants were entrenched in an intense game of culinary trivia, with physical challenges interspersed throughout. Each round, losers had to take a shot of an alcohol of Guy's choice…making for some very rowdy chefs.
The non-stop action continued as we were off to Meatopia where we made our rounds in record time and left only when we couldn't possibly eat another rib or ounce of pulled pork.
The event was capped off by a surprise sighting of Jacques Torres, who couldn't get enough of the Martin's BBQ Whole Hog Rig.
From meat, meat and more meat, we moved on to test our sugar endurance at the Sweet 15 event hosted by two of our favorites, Duff Goldman and Jacques Torres. Duff's beach-inspired spread featured homemade Grapefruit Meringue Crumble Push Pops that brought out the kid in all of us.
Jacques' table was a chocolate lovers dream, piled high with JTC favorites- Chocolate Covered Cheerios, Bon Bons, and of course, his famous Chocolate Chip Cookies.
For everyone from the first timers to the seasoned veterans, SOBEWFF 2016 did not disappoint. With perfect weather, a stellar crowd and drool-worthy food, the weekend left us exhausted, satiated and ready for next year! They say a picture is worth a thousand words, so we'll leave you with some of the highlights, caught on camera.