The Brooks Group Welcomes New Publicist: Q&A With Kristina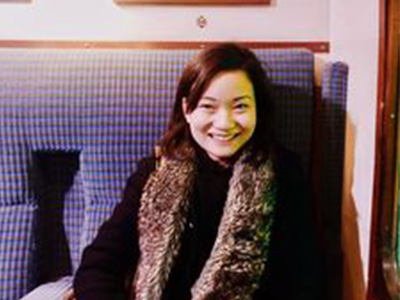 The Brooks Group recently welcomed a new Publicist, Kristina Quintos, to the team and couldn't be happier! Hailing from the Phillipines as a "third culture kid," Kristina sat down with us to share more about her diverse background, hobbies, and love for New York City:
How have your first few weeks been at the Brooks Group?
My first few weeks have been really great – off to a running start and diving right in! My days have been filled with getting to know The Brooks Group team and clients. Everyone has been so welcoming, kind and helpful! I couldn't have asked for a better group of ladies.
Where are you from?
I was born in Manila, Philippines, but have always seen myself as a third culture kid, meaning I spent a significant part of my youth outside of the Philippines. I moved around a few times growing up and lived in Singapore and Connecticut before going back to the Philippines.
What neighborhood do you currently call home?
Herald Square – right in the thick of it. I love the constant hustle and bustle of all the people; it is never dull. Another plus? It is right next to Koreatown so I am never at a loss for Korean food!
Where did you go to school?
I was fortunate to study right here in the city at New York University where I majored in Communications.
Why did you choose PR? What do you like about it? (3 reasons)
Three reasons: 1) I love how the day-to-day is always different. There are always so many things going on that make my day vibrant and exciting. 2) I get to meet a lot of different people whether it is colleagues, clients and their respective teams. Working with different personalities is always interesting, and you end up making some great connections in the long run. 3) That feeling you get when you and your team get a huge placement or accomplish a goal. There is nothing like seeing all that hard work and effort come to fruition in a full-page spread in a magazine, a great segment or a major online profile.
Tell me about your background from before you joined the Brooks Group
Prior to this role, I was the Press Representative at CBS RADIO where I had the opportunity to oversee various PR efforts for their radio stations and digital media initiatives, including writing press releases, pitching, and oversee press for the company's concerts and events.
Before CBS RADIO, my first job was actually not in PR but in HR at J. Walter Thompson, a major advertising agency where I managed various human resource projects on a global level and worked with the company's offices around the world.
While in college, I interned at CBS Entertainment, NBC, Bravo and a Broadway PR agency in their respective communications/PR departments, so I had the opportunity to build a foundation for my career.
What attracted you to the Brooks Group?
I was excited by the prospect of working in an environment with a tightknit group of hardworking, nice and supportive group of women. Having the opportunity to brainstorm, work and collaborate with the Brook's Group Team was an opportunity I couldn't pass up! Pair that with such a high-caliber roster of clients and you can't go wrong.
Where is your favorite place to travel to?
I love going home to the Philippines. It's difficult for me to go home often because of the distance, but when I do, I get to see my family, extended family and friends. While there I travel to all the gorgeous beaches and islands in the Philippines like Palawan, so it's hard to complain about that!
What do you like to do outside of work? Hobbies?
I am a big foodie, TV watcher and theatre lover. I am always dragging my friends to try the newest restaurants in the city. My DVR is constantly at 100% because of all the TV shows I have in queue – you name it, I probably watch it. Then there is my love for Broadway and all things theatre. It is that unique experience of having the lights dim as I am inspired and transported to another world where people do break out into song and dance. It is an amazing experience to be transported to another world when the lights dim and the curtain parts.
Favorite restaurant in NYC?
It's tough to play favorites, but if I had to choose, it would be Ippudo, Sushi of Gari, Pig & Khao, Tacombi,  Jacob's Pickles, Kang Ho Dong Baekjeong, and Russ & Daughters. But not all at once.
Favorite snack food?
Popcorn, particularly movie theater popcorn. There is nothing like having a big bag of popcorn loaded with "butter" when watching the latest blockbuster.
Favorite meal?
Another hard choice! If we are talking about a home-cooked meal, there is nothing like my mom's adobo, a traditional Filipino entree. It's a delicious chicken or pork (sometimes both) dish that is braised in a salty and rich sauce of vinegar, garlic and soy sauce. Whenever she comes to visit me, I always have her make me a big batch of adobo and it reminds me of home.
Favorite book?
I am a gigantic Harry Potter fan – books, movies, theme park, all of it. The wizarding world was always so fascinating and thrilling to me. So out of all the novels, I would have to say the first one, Harry Potter and the Sorcerer's Stone, is my favorite. I am still waiting for my letter from Hogwarts!
Favorite place to go in NYC to hangout
I love Schmackary's on 45th. It is the perfect spot to hang out before a Broadway show to grab a red velvet cookie and coffee, meet friends to catch up or just people watch. At times, it can be a quiet sanctuary away from the chaos of Times Square. Did I mention that all their cookies are amazing?
Fun fact about yourself?
I am also a huge Disney nerd and have been to all the Disney theme parks around the world – except Shanghai. That one just opened and is on my bucket list of places to visit.