Starting the Week on a Sweet Note with Jacques Torres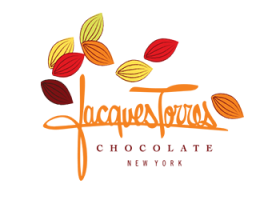 Our team started the week on a sweet note with a field trip to our fabulous client, Jacques Torres Chocolate SoHo location for a team building chocolate making class.   To prove we didn't spend the entire class taste-testing, here are the top three things we learned:
Cocoa Butter is key! The naturally-occurring fat in the cocoa bean, cocoa butter, is responsible for giving chocolate that melt-in-your-mouth feeling and is crucial in the chocolate tempering process.
Nestlé is a no go! We have all been there, with a bowl of chocolate chips fresh out of the microwave and suddenly your bowl of melted chocolate is a lumpy, gritty mess. Processed chocolate chips are meant to hold their shape under heat and don't have as much natural cocoa butter in them, which affects how the chocolate tastes and melts.
The perfect afternoon pick-me-up: Cocoa Nibs! Dried cacao beans are roasted to develop the flavors of chocolate and then the beans are cracked and inspected to remove the shells and other debris. What is left is known as cacao beans which taste chocolatey, but are not overly sweet.
From cacao bean to our delicious final products, the team learned the chocolate making process from beginning to end.  We made chocolate bars, chocolate lollipops and dark chocolate cornflake clusters – an office favorite.  Jacques offers classes on Wednesdays and Saturdays at 11am, 1pm, and 3pm. To schedule a class of your own, contact the SoHo location at 917-261-4252 or email at ChocoStoryNY@mrchocolate.com.
-The Brooks Group