Brooks Buzz: Rebecca's tips for making the most out of your trip to South Beach Wine & Food Festival: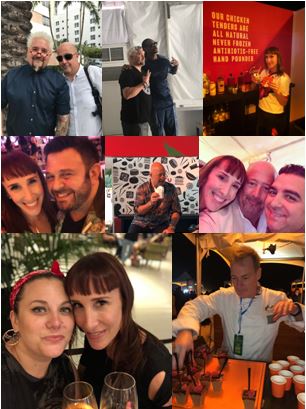 South Beach Wine & Food Festival is around the corner and it's hard to believe that it's my 17th year attending (someone has to do it)! It affords us the opportunity to spend time with clients, coordinate media opportunities, see old friends, make new friends and have a hell of a good time.  This year Guy Fieri, Adam Richman, Jacques Torres and Andrew Zimmern are participating in tent-pole events, dinners, demos and more.
Over the years I've learned a few tricks of the trade to navigating SoBe, and here are my favs:
Layers are your best friend – most events are outdoors and Florida weather is  unpredictable.
Women, pack stylish flats, sneakers and platforms. While it may be tempting to pack strappy high heels, resist and your feet will thank you.
Pack a small backpack or cross body bag for events – hands free is key!
Work off some of the SoBe calories. Schedule time to walk/run on the boardwalk, do yoga, Robert Irvine's bootcamp, flywheel, or my personal favorite, down and dirty training drills on the beach.
Have a healthy snack before events to avoid being hangry and/or overeating (and drinking) on an empty stomach.
Create a schedule and add it into your calendar including travel time from one location to the next.
Essentials to have on hand at all times: Water, sunscreen, protein bar, bag of almonds, baseball hat, mophi for extra phone juice.
If you are part of the festival, pop by the hospitality suite at The Loews for coffee, water and to mingle with festival friends.
Even amid all those food events you may still need a good spot to grab a bite. I've got you covered: Aroma is fantastic fast-casual restaurant offering delicious coffee and Middle Eastern foods and it's just a few steps from The Loews.  The first time I experienced this restaurant was in Israel and am obsessed.
Channel your inner boy/girl scout and be prepared: pack an umbrella.
Most importantly, remember that the 5 day festival is a marathon not a sprint and enjoy! A few pictures from over the years…