Guy Fieri: Sunday Paper Dinner Club: Roasted Spaghetti Squash with Kale and Parm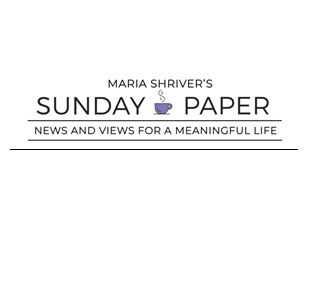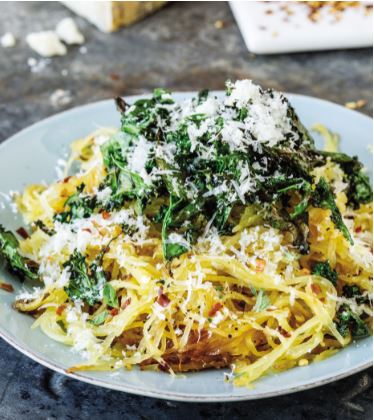 By GUY FIERI
The Sunday Paper Dinner Club: We here at The Sunday Paper believe in the power of meaningful conversations around the table as a foundation in building a more caring, kinder and compassionate world.
We want to inspire you and encourage you to gather virtually at your tables, open your hearts, and open your minds each and every week with the help of our Meaningful Conversation Starter and suggested recipe. Then report back to us and tell us about the experience. Cheers!
RECIPE
Makes 4 servings • Time: 1 hour
This crazy simple recipe is the best way I know to show off one crazy vegetable; it starts out looking like a perfectly ordinary squash, but after cooking can easily be shredded into long ribbons of "spaghetti." If that transformation alone doesn't blow their minds, generously topping the nest of earthy-sweet spaghetti squash with crispy kale chips and freshly grated Parm surely will.
Ingredients
1 large spaghetti squash
2 tablespoons plus 1 teaspoon extra-virgin olive oil
2 teaspoons oregano leaves
2 garlic cloves, minced
1/2 teaspoon red chili flakes
2 teaspoons kosher salt
6 to 8 turns freshly ground black pepper
1 large bunch kale
13/4 ounces Parmesan cheese, finely grated (about 1/2 cup)
Instructions
Preheat the oven to 350°F.
Split the spaghetti squash in half lengthwise. Use a large spoon to scrape out the seeds and discard.
Place the spaghetti squash cut side up on a rimmed baking sheet and drizzle with the 2 tablespoons olive oil. Sprinkle with the oregano, garlic, chili flakes, 1 teaspoon of the salt, and 3 or 4 turns of pepper. Turn over so they are cut side down (this will enable them to cook faster). Bake in the center of the oven until the squash flesh is fork-tender, about 45 minutes. Set aside to cool slightly, about 5 minutes. Use a large spoon and fork to scrape out the fibers from the squash halves and place them in a large bowl. Toss gently to separate the strands so they resemble spaghetti.
Meanwhile, wash the kale and remove and discard the stems. Tear the leaves into large bite-size pieces (about 1 inch). Dry completely in a salad spinner. Transfer the kale to a large bowl. Dress very lightly with the remaining 1 teaspoon olive oil, so the leaves are barely coated. Season with the remaining 1 teaspoon salt and 3 or 4 turns of pepper. Spread the leaves evenly on 2 rimmed baking sheets and roast until crispy and bright green, 12 to 14 minutes. Set aside.
To assemble, place the spaghetti squash on a large platter and top with the crispy kale chips. Sprinkle with the Parmesan and serve.
From GUY FIERI FAMILY FOOD by Guy Fieri. Copyright © 2016 by Guy Fieri. Reprinted by permission of William Morrow, an imprint of HarperCollins Publishers.
This recipe was featured in the March 22nd edition of The Sunday Paper. The Sunday Paper inspires hearts and minds to rise above the noise. To get The Sunday Paper delivered to your inbox each Sunday morning for free, click here to subscribe.
GUY FIERI
Guy Fieri is a restaurateur, author, and an Emmy Award winning television host. He co-owns three restaurants in California, licenses his name to restaurants in New York City and Las Vegas, Nevada, and is known for hosting various television series on the Food Network