Food waste is the cause of 8 percent of global greenhouse gas emissions, and it costs the average American family about $1,200 per year, according to the Natural Resources Defense Council (NRDC). Yet the twin calamities of a trillion dollars in food wasted annually and up to 811 million people worldwide going to bed hungry each night — and the cascading effect these inefficiencies have on global security — are shockingly underdiscussed.
And most people are unaware of the problem.
"If most people understood all of the kinds of interconnected impacts that wasting food has, they would think twice about it," Yvette Cabrera, director of the NRDC's food waste program, told me.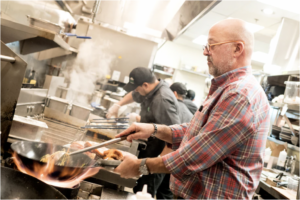 Raising that kind of awareness is a key part of what goodwill ambassadors do. And the WFP's appointment of chef and food television personality Zimmern represents an effort to look at these old problems in new ways.
"It's mind-boggling that there is an issue that is killing people, harming our global culture and resulting in an ongoing catastrophe — one that we actually also have the skill to solve, but clearly, we don't have the political will to actually execute," Zimmern told me in a Zoom interview last month.
Which is a kind way of saying that our elected leaders lack the imagination and perceived incentives to address this monumental and urgent problem.
Zimmern might not be an obvious choice, but he could be the ideal figure to inspire changes in how we think about food. The chef who first came to international prominence as host of the show "Bizarre Foods," in which he traveled the globe in search of unfamiliar delicacies, is well-suited to talk to the public about the revolution that's needed. The show has aired in 168 countries and territories and been dubbed into dozens of languages.
Along his journeys, which almost always had food as the lens, Zimmern has done his homework. For years, he explored the ways different communities source, prepare and enjoy their food. That has led to his creative thinking about our inability to keep everyone fed.
It isn't just about switching protein sources from mammals to insects, which Zimmern was famous for trying on his show and advocates for as a viable and responsible alternative to many meats. He fully acknowledges it isn't a leap everyone is ready to take, but argues that subtle changes can make a big impact.
Composting facilities, for example, can provide on average twice as many jobs as landfills and four times more than incinerators. Legislation that encourages composting has gone into effect in a number of states, including California and New York.
Zimmern also plans to advocate for a return to the basics. He says that until World War II, approximately 60 percent of Americans grew their own vegetables, something he thinks we should be encouraged to do again. Another opportunity he has long championed is fishing for invasive species that are overrunning lakes and rivers in various parts of the country.
"I would like to see people taking a meal a week out of the wild safely. I'm not asking people to go to the National Mall and trap a squirrel, right? … But safely a meal from the wild," Zimmern told me, referring to food from hunting, fishing or foraging. These are still standard practices in rural communities across the United States and world.
Zimmern is also betting on cooks, and others who are in the business of feeding people, to come up with creative answers. He points to the work of his friend, Washington chef and restaurateur José Andrés, and Andrés's nonprofit World Central Kitchen, as a shining example of what can be done when people in food-related businesses take the initiative, despite red tape, to mobilize in the face of disasters.
"I think food people are problem solvers," Zimmern told me. "We have a desire just to feed people, right? Let's just feed people."
Zimmern intends to use his platform to change minds, but also to start conversations about policies at local, national and global levels. He's especially focused on pushing for a Cabinet-level position devoted to these issues in the United States.
"Who's in charge of food?" Zimmern says, noting that food issues are spread across multiple government agencies. "You need someone who is able to advocate for real change."
Zimmern is only just embarking on his new role. But for now, when it comes to fighting hunger, more cooks in the kitchen might be exactly what's needed.