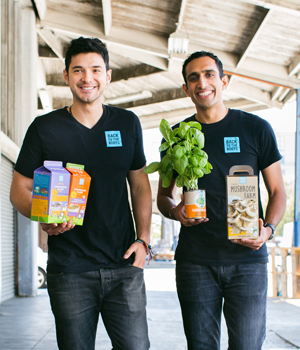 In 2009, Back to the Roots was founded by entrepreneurs Alejandro Velez and Nikhil Arora upon a beautifully simple concept for urban mushroom farming. Since that time, Back to the Roots has evolved from a single product to a thriving business dedicated to the disruptive proposition of "un-doing food" and reconnecting families to their food through the creation of fun, innovative products that educate and inspire curiosity and change.

As the name implies, Back to the Roots is a company that believes that there are diverging paths in today's food world – food that is grown or raised naturally and food that is engineered.  But even as lab-created, chemical and additive-laden products proliferate on grocery store shelves there is a growing societal demand to understand where our food is coming from.  For Velez and Arora, restoring transparency to our food chain and replacing the "done" with the "undone"– wholesome, tasty, imaginative and sustainable products – has become both mission and mantra.  Since its inception Back to the Roots has been honored with several awards recognizing their efforts in sustainability and entrepreneurship including BusinessWeek's 'Top 25 Entrepreneurs under 25,'Inc.'s '30 Under 30' and Inc. 5000, Forbes' '30 Under 30,' CNN's '10 Next Entrepreneur's to Watch,' and more.

FROM INVESTMENT BANKING TO URBAN FARMING

In 2009, Velez and Arora were seniors in their last semester at UC Berkeley, heading towards graduation with plans to pursue the corporate world of investment banking and consulting when a classroom discussion about growing gourmet mushrooms using recycled coffee grounds changed their career trajectory. Intrigued by the notion of converting waste into wages and producing fresh, local food, the pair began to experiment and grew a single test bucket of oyster mushrooms. That bucket ultimately yielded not only Velez and Arora's first crop of mushrooms, but encouragement from Alice Waters of Chez Panisse, a $5,000 grant from the UC Berkeley Chancellor for social innovation, and interest from Whole Foods.  Departing from their previously-charted corporate course, Velez and Arora soon became full-time urban mushroom farmers and Back to the Roots was born.

After forging a relationship with Whole Foods, in 2009, Velez and Arora launched the Back to the Roots Organic Mushroom Farm, a sustainable box that grows up to 1.5 lbs of certified organic gourmet oyster mushrooms from the recycled waste in 7 to 10 days. The kit is now available nationwide at over 8,000 select Whole Foods, Bed, Bath & Beyond, Home Depot, Safeway, Nordstrom, and Loblaws stores. By 2012, the company had diverted and reused over 3.6 million lbs of coffee grounds from Peet's Coffee & Tea in their at-home kits. In 2013, Back to the Roots partnered with Gourmet Mushrooms in Sebastopol, CA to produce their mushroom farms which now uses waste from corn husks, wheat bran and sawdust as the growing medium in order to harvest a more consistent, bountiful crop. To further extend their commitment to sustainability, in November 2014, Back to the Roots a campaign in which heirloom, organic tomato seeds are also included in the Mushroom Kits along with instructions on how to use the leftover waste of soil—essentially, the waste of waste—to grow the tomatoes.

A SEA OF CHANGE

After the success of the Organic Mushroom Farm, a tour of a Milwaukee aquaponics farm that used fish waste to fertilize food for the community sparked Velez and Arora's inspiration for a second product.  Initially funded by over $250,000 raised via a Kickstarter campaign, in June 2013 Back to the Roots launched the AquaFarm, an at-home, self-cleaning fish tank that uses a closed-looped ecosystem to grow plants and herbs in a miniature garden on top of the tank. A model of perfect sustainability, the fish waste generated within the AquaFarm naturally fertilized the plants and herbs which, in turn, clean the water for the fish.

GROWING THREE NEW PRODUCTS IN 2015

 New Back to the Roots products launching in April 2015 will also feed consumers' growing appetite to know where their food comes from and further represents the brand's commitment to un-doing food. The Garden in a Can and Garden in a Jar line of herbs is an enjoyable and educational way for anyone to connect with the growing process.  Available in three varieties (Basil, Oregano, and Thyme), the kits are composed of seeds and soil from the highest quality organic ingredients and are OMRI certified. Genius in its minimalism, the can or jar needs only routine watering and ample sunlight to harvest fresh, grown-at-home herbs. Ideal for the home chef, amateur urban gardeners, or classroom, Garden in a Can and Garden in a Jar will also help Back to the Roots continue its dialogue with schools as an educational tool to teach children about how the foods they eat every day are grown.

This spring Back to the Roots will also debut Organic Stoneground Flakes, a breakthrough product that will disrupt the conventional cereal category.  For this product, Back to the Roots has enlisted the aid of several high-profile angel investors including food activist Michael Pollan; agricultural policy reform leader and James Beard Award-winning chef Dan Barber; Blue Hill Farm President David Barber; John Foraker, CEO of natural food company Annie's;  Kevin Cleary, CEO of Clif Bar & Company; Gary Hirschberg, chairman and former CEO of organic yogurt producer Stonyfield Farm; and Fund Good Jobs, a non-profit organization that focuses on inner city job creation.

Composed of only three simple, organic ingredients—non-GMO stone ground whole wheat, organic cane sugar and a pinch of sea salt—Back to the Roots' Organic Stoneground Flakes is the first stone ground wheat cereal on the US market. Low in sugar and high in protein, fiber, and whole grains, the cereal is just as remarkable for what it does not contain:  chemicals, preservatives, additives, artificial flavors, sweeteners or coloring. To reinforce the natural simplicity and transparency of a product made in a kitchen and not in a lab, the packaging will include a link to the recipe for the cereal.

Launching simultaneously with the Organic Stoneground Flakes will be Back to the Roots' new Breakfast Toppers, three different combinations of tasty mix-ins to customize the cereal (Organic Raisins, Sunflower Seeds, and protein-rich Buckwheat; Dates, Coconut and Chia Seeds; and Blueberries, Almonds, and Buckwheat).   Ideal for sprinkling onto a favorite cereal, oatmeal, or yogurt, each Breakfast Topper will provide 8 servings and will be housed in colorful reusable, recyclable and stackable packaging.
Read the Full Bio +
Hide the Full Bio -