What to Cook for Editors Who've Tasted It All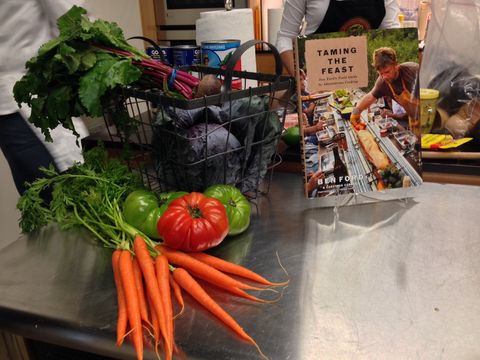 Last week, Chef Ben Ford whipped up a mouth-watering lunch for editors of Family Circle, Parents and Every Day with Rachael Ray. The Executive Chef of Ford's Filling Station – one of America's only true gastropubs – demonstrated three outstanding recipes from his new book, Taming the Feast: Ben Ford's Field Guide to Adventurous Cooking. Scroll down to see photos of his Bacon-Wrapped Quail, Cheese Loaf and Beef Chili.
Ben's menu contained all food the groups: poultry, bacon, beef – and veggies for garnish.
The editors loved the finished product, and all went home with a Chef Ford-approved goody bag of their own:  his own Texas BBQ Dry Rub and BBQ Mop Sauce!