The Brooks Group Welcomes New Senior Account Director: Q&A With Pamela Spiegel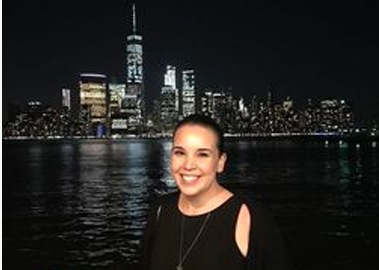 Last month, The Brooks Group had the pleasure of welcoming Pamela Spiegel to the team as our new Senior Account Director! This PR pro jumped right in to share her wealth of knowledge accrued during her 10+ years in the business.
How has your first month at The Brooks Group been?
Exciting, energizing and busy! 
Where are you from?
I was born and raised in Brooklyn. I grew up in Canarsie (the last stop on the L).
What neighborhood do you currently call home?
After spending a few years living in the Financial District, I moved back to Brooklyn and took up residence in Williamsburg.
Where did you go to school?
I attended Emerson College in Boston.
We know you have more than 10 years of experience in the industry. What are the most important lessons you've learned over the years?
Listen
Adapt
Keep a positive mental attitude
Practice patience
Never forget your sunscreen for an outdoor event!
What do you love the most about PR?
I absolutely love the variety and that no client or media outlet is ever the same.  In PR, no day is identical so it's always a fresh challenge.
Tell us about your background from before you joined The Brooks Group.
Early in my career I worked at culinary agency Bullfrog & Baum and later moved to the full service agency Sunshine Sachs. I joined The Brooks Group with experience working with restaurants, culinary festivals, celebrity chefs, hunger related non-profits, cookbooks and television shows, which gave me the wonderful opportunity to work with BRAVO Network, Charleston Wine + Food, Facebook, Taste of the NFL, Chef Roast, Chef Alex Guarnaschelli, WEtv, Girl Scouts of the USA, Sweet Chick, Katie Lee, Harlem EatUp! Festival, Graham Elliot, and Carla Hall and more! It's truly been a wonderful career so far.
What attracted you to The Brooks Group? How does it differ from other agencies you've worked at in the past?
I have known Rebecca and The Brooks Group for many years, and have always had so much respect for her ability to develop brands and personalities from complete unknowns. Coming from a larger agency, I love the smaller, quieter environment here, the comradery and dedication to excellence.
Where is your favorite place to travel?
Florence has been my favorite international city to date…but Charleston, oh how I left my heart in Charleston, S.C., just a few months back!
What do you like to do outside of work? Hobbies?
SoulCycle addict. Dog obsessed. Ravenous eater.
Favorite restaurant in NYC?
My favorite place to eat changes all the time as I fall in love with a new restaurant. Lately I've been obsessed with Cerveceria Havemeyer and Pig & Khao.
Favorite snack food?
Popcorn. No – wait – French fries! They're a snack food, right?
Favorite meal?
Mexican food. I am always craving tacos and guacamole.
Favorite book?
Confederacy of Dunces by John Kennedy Toole.
Favorite place to go in NYC to hangout?
I tend to stick around my neighborhood after work and on the weekends. I like getting back to Brooklyn to relax and meet up with friends.