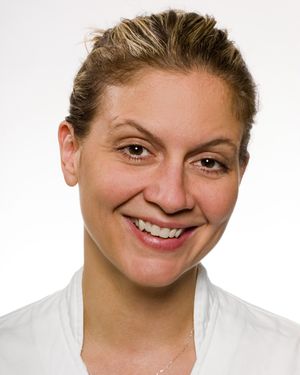 Through her work in professional restaurant kitchens, as a food television personality and now author, Amanda Freitag has become more than a chef, she is The Chef Next Door. While the moniker is derived from the title of Amanda's first cookbook, The Chef Next Door: A Pro Chef's Recipes for Fun, Fearless Home Cooking (Houghton Mifflin; 2015), it also aptly conveys both her professionalism and warm, accessible personality. These traits have served her well as a judge on Food Network's hit series, Chopped, and as the co-host of Food Network's American Diner Revival with Ty Pennington.

GARDEN STATE BEGINNINGS

Growing up in Cedar Grove, New Jersey, Amanda's passion for food was evident at an early age. Unlike most typical fourth graders, Amanda packed multi-coursed lunches in a large grocery bag and her earliest memories involved a fascination with the film Who's Killing the Great Chefs of Europe and baking homemade doughnuts with her grandma. At the age of 15, she fell in love with entertaining through food and the fast-paced excitement of restaurants when she took a job working in a large banquet hall, and later, at an á la carte concept. When Amanda showed real talent in her high school Home Economics class, her teacher encouraged her to pursue a cooking career. After graduation, she enrolled at the Culinary Institute of America in Hyde Park, NY.

CULINARY CHOPS

After graduating from culinary school in 1989, Amanda's first position in a New York City kitchen was as rotissier and garde manger at Vong led by chef Jean-Georges Vongerichten. It was here Amanda was first introduced to marrying French technique with Southeast Asian ingredients and flavors. In 1994, she transitioned to Verbena under chef Diane Forley, a female pioneer in the predominantly male restaurant industry who became one of Amanda's greatest mentors. At Verbena, Amanda rose quickly through the ranks to become the restaurant's chef de cuisine learning, among other things, the importance of using local, organic ingredients.

Her time at Verbena revealed to Amanda that she still had much to learn about the culinary world and that travel would be key to her continued development. In 1999 she traveled extensively through France and Italy to explore the bountiful markets and progressive restaurant scenes. While in Paris, she spent two weeks working under chef Alain Passard at his venerable restaurant, Arpège. At Arpège, Passard insisted on using only the freshest ingredients, leaving nothing but butter in the walk-in refrigerators at the end of service. This eye-opening experience made an impression, helping to further develop Amanda's deep appreciation of superlative ingredients and the flavors of the Mediterranean region.

Upon returning to New York, Amanda worked at some of the city's most popular restaurants including Cesca, where she cooked alongside Tom Valenti as his chef de cuisine and earned two stars from The New York Times in 2003. In 2006, Amanda was named the executive chef at Gusto in the West Village, where her food was met with critical acclaim. In January 2008, Amanda took over as the executive chef at The Harrison in TriBeCa. Over the years that she helmed the kitchen, The Harrison received numerous accolades from local and national media, and earned a two- star review from The New York Times restaurant critic who lauded Amanda's work as "exemplary."

FROM BIG KITCHENS TO SMALL SCREEN SCREENS

In 2008, during the end of her tenure at The Harrison, Amanda shared her culinary knowledge and experience with a broader audience, joining the judging panel on Food Network's competition series Chopped where she currently still serves as a judge. In May 2015, she launched her own show concept, American Diner Revival, with co-host Ty Pennington, in which she lends her expertise to struggling classic diners across the country to overhaul their menus. On the small screen, Amanda has also competed on Iron Chef America, America's Next Iron Chef, and has appeared on Unique Eats and other shows on Cooking Channel and has made numerous other television guest appearances on national broadcast television including The Today Show, The Chew, Good Morning America, Fox & Friends, and more.

THE CHEF NEXT DOOR

In September 2015, Amanda launched her first cookbook, The Chef Next Door: A Pro Chef's Recipes for Fun, Fearless Home Cooking. After spending nearly her entire life in restaurant kitchens using professional equipment, Amanda finally confronted her own fears of cooking in her small apartment kitchen and wrote about the experience in The Chef Next Door. Connecting with the intimidation and anxiety experienced by many home cooks, in The Chef Next Door Amanda helps improve readers' confidence through imparting approachable skills, tricks, and tips. In her bright, lively voice, she helps readers master the basic techniques that are the foundation of good, flavorful cooking. She also teaches how to think like a chef—to consider seasonality, balancing flavors, understanding the steps, and learning how to improvise—to create a menu and execute dishes with pro techniques, as if she were right there in the kitchen. The Chef Next Door shares a diverse range of dishes, such as Spinach Feta Pies, Kale and Farro Salad with Aged Goat Cheese, Lusty Lemon Chicken, Pop's Beer-Braised Bold Beef Stew, Mediterranean Potato Salad, Marinated Artichokes, Cocoa Carrot Cake, and more.

When she is not in the kitchen, Amanda enjoys traveling the world and collecting restaurant menus to add to her ever-growing collection.
Read the Full Bio +
Hide the Full Bio -
Videos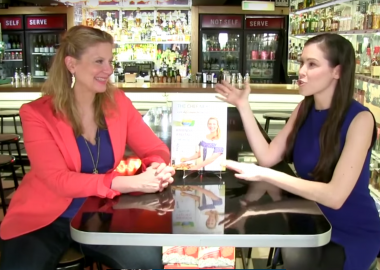 5 Questions for Amanda Freitag Potluck
CBS This Morning with Amanda Freitag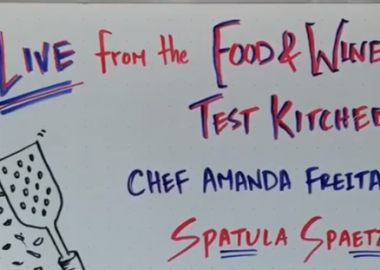 Food& Wine