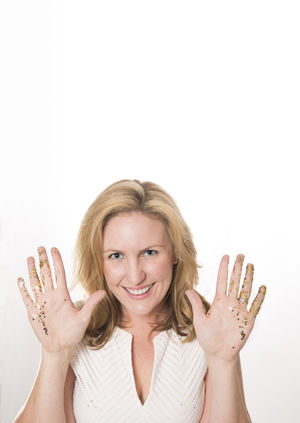 Elise Strachan first captured the eyes and imaginations of millions in 2011 when she became a top social media influencer renowned for her spectacular, inventive sweet creations and charismatic, engaging style through her YouTube channel, social media platforms, and corresponding website, My Cupcake Addiction. The founder, creator and host behind one of the world's largest digital food and lifestyle brands and the top baking channel across the globe, Elise both inspires and empowers more than 2.7+ million loyal subscribers on YouTube and over 4.8+ million fans on Facebook, and her community continues to grow at an astonishing rate every day. Elise provides boundless creativity, ingenious shortcuts, cost effective measures and clever hacks to help the average home baker create masterpieces that are surprisingly simple and attainable.

Pie in the Sky

Born in Auckland, New Zealand, Elise officially became an Aussie at the age of 5 when her family moved to the Gold Coast. Always an avid home baker, in 2008, Elise was working as a flight attendant when she and a friend recognized the potential in the booming cupcake industry and decided to capitalize on the trend by opening their own cupcake business. Transitioning from the friendly skies, Elise took an administrative job by day and on the weekends sold her homemade cupcakes at a local beachfront market stand she named Cupcake Addiction. Working through the night to bake over 700 cupcakes in a variety of whimsical flavors out of Elise's tiny, single-oven kitchen, the stand quickly became a hit, consistently selling out of her creations. Simultaneously, Elise began branching out, selling creative custom-ordered cakes and cupcakes for weddings, birthdays and special events.

Making Digital Waves

Motivated by the immensely positive reaction to her market stand wares, Elise contemplated opening a baking school where she could arm the everyday home cook with skills and tricks to easily recreate her designs, without the need for fancy equipment or advanced pastry degrees. Alec, Elise's husband and now full-time business partner, suggested using YouTube to test her teaching skills and attract a larger fan base. In fall 2011, just months after the birth of her first son and having never before used YouTube, Elise posted her first My Cupcake Addiction video tutorial for a Cookie Monster Cupcake with modest expectations. Before long, rave reviews, increasing views and enthusiastic online engagement fueled her efforts, and within 6 months she was regularly uploading new videos each week. Balancing the thriving channel with her popular cupcake stand proved a challenge, and after a successful 18 months at the market, Elise closed the stand to focus solely on building her digital brand.

Growing Both Brand and Family

My Cupcake Addiction became a family affair in 2013, when Alec left his job in security to support Elise and the business full-time. In 2014, to supplement her knowledge and skills Elise enrolled in culinary school to become a qualified pastry chef, completing the program just as she was due to give birth to her second son.

In less than 5 years, what began as a modest venture to post inventive sweets tutorials has evolved into a dynamic and engaged global online community and a thriving lifestyle brand, with over 4.8 million Facebook followers, 2.7 million Youtube subscribers, 900,000 Instagram followers, 40,000 Twitter followers, 18,000 Pinterest followers and a massive website viewership. With over 500 videos and more than 350+ million lifetime views on YouTube, including channel extensions in both Spanish and Japanese, Elise has become a digital phenomenon with an enviable global fan base. Her most-viewed video, Skittles Rainbow Cake, has over 26 million views and counting. In addition to consistently creating new video content, Elise has active brand partnerships and activations with Nestle, KitKat AU, Starbucks and Virgin America. She is regularly featured on The TODAY Show, and has also appeared in The Wall Street Journal, Forbes, Hallmark Home & Family, CNN Money, The Huffington Post, People.com and more.

From Click-Throughs to the Coffee Table

After receiving thousands of requests from devoted fans, Elise's first book Sweet! Celebrations will publish on October 25th, 2016. A natural extension of her wildly inventive baking and decorating techniques, Sweet! Celebrations offers Elise's creative take on entertaining and event styling with themed recipes, clever, budget-friendly party décor and lively anecdotes that reveal the inspiration behind many of her most famous confections. With a personal touch and signature blend of whimsy, fun and ease, in Sweet! Celebrations Elise offers recipes and tips to inspire fans both old and new to up their party game with clever themed presentations and ideas that impress without intimidation.
Read the Full Bio +
Hide the Full Bio -