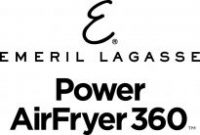 Biography

The Emeril Lagasse Power AirFryer 360 is a 9-in-1 stainless steel air fryer and multi-cooker that represents the new generation of all-purpose countertop kitchen appliances. Developed in collaboration with Tristar Products, Inc. and celebrity chef, restaurateur, cookbook author, and television personality Emeril Lagasse, the multi-use appliance was designed to replace traditional kitchen convection ovens, providing home cooks with multiple cooking capabilities traditionally found only in full-size units. Currently available online and launching in retailers later this year, The Emeril Lagasse Power AirFryer 360 serves as an air fryer, toaster oven, convection oven, pizza oven, slow cooker, rotisserie set, dehydrator, roaster, toaster, and broiler.

The Emeril Lagasse Pressure AirFryer has 44 preset cooking functions including Pressure Cooker, Sous Vide, Air Fry, Bake, Grill, Yogurt and more making entire family-sized appetizers, meals, and desserts in almost half the time.  Each unit comes with two removable lids – one for pressure cooking and other for air frying.

Read More

About Tristar Products, Inc.

Tristar Products, Inc. is industry recognized as the premier direct response market leader worldwide. Tristar has exceeded over one billion dollars in retail sales. Tristar Products, Inc. is an Inc. 5000 company. More information can be found at www.tristarproductsinc.com.
Read the Full Bio +
Hide the Full Bio -