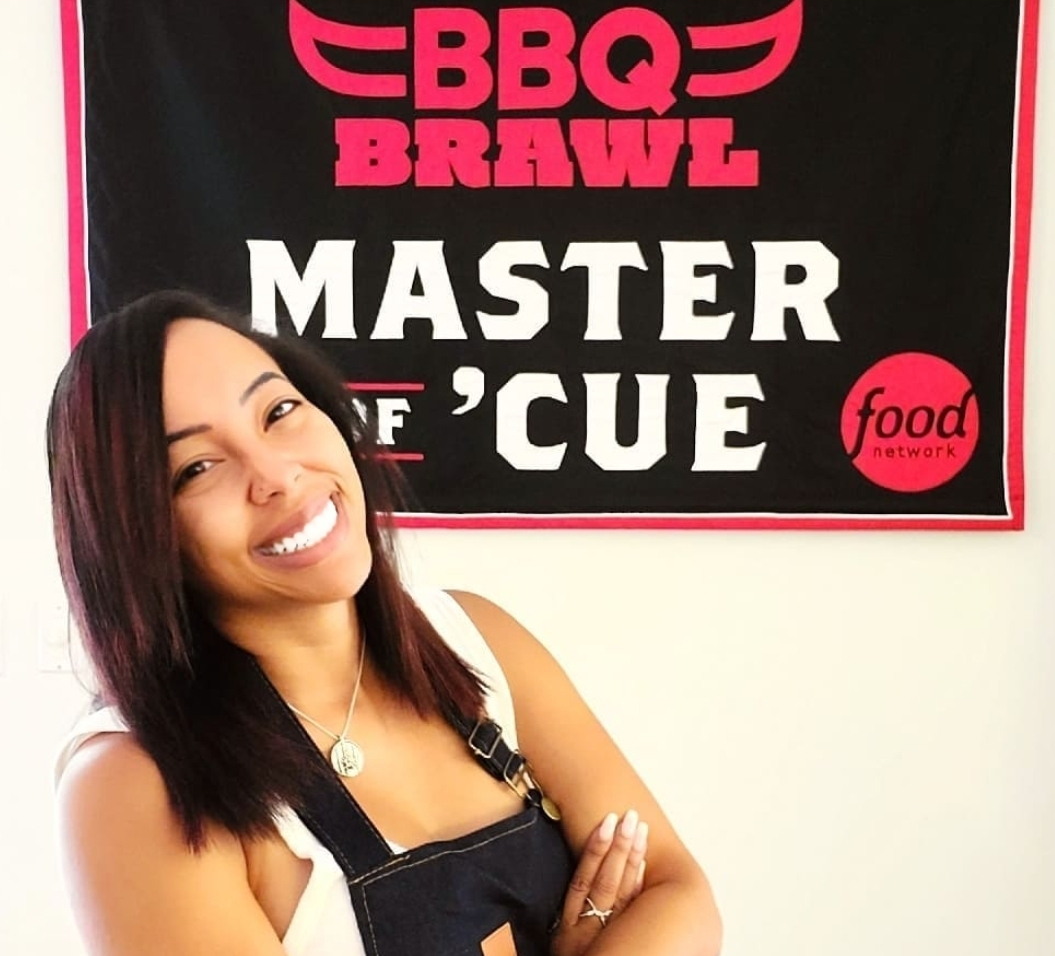 Erica Blaire Roby is one of the country's leading Black female pitmasters, an award-winning artist in the field of barbecue. However, being an acclaimed pitmaster is only one of her many accomplishments: Erica is also an attorney, a level-2 Certified Sommelier, United States Navy wife, and a mother. Yet with all the paths that Erica has walked on her journey so far, food has always been the through-line uniting them all.

Born to a military family in Omaha, NE, Erica exhibited an early interest in cooking and by age 10 she was proud to be designated as the family's honorary primary cook. Her parents encouraged her efforts by allowing her to purchase one cookbook per month to hone both her skills and repertoire of dishes Around this time in 1993, Erica also had her first brush with barbecue, ably helping her father at the grill, a responsibility historically reserved only for the men in her family. When her parents took the leap into entrepreneurship in 1991, starting a janitorial cleaning company, Erica balanced schoolwork with cleaning office buildings at night with her parents, and watching cooking shows on television.

In 2000 at age 15, Erica began attending high school in Hawaii and began to learn numerous different cooking styles, while continuing to master her family's recipes, many of which derived from her father's Creole heritage. In the two decades since, Erica's life and passions have taken her in different directions. In 2002, Erica moved back to Ohio where her family resided and attended college at Wright State University in Dayton, OH, pursuing a B.S. in Psychology. She accelerated her studies, graduating in just two and a half years, before spending the rest of the year living in Montreal, and Granada, Spain. In 2005, Erica began legal studies at Rutgers School of Law in Camden, NJ, where she excelled in her trial and litigation courses. Upon graduation in 2008, she moved to Miami, FL to work as a public defender in the criminal court system, specializing in juvenile law. While there, Erica also dove into the city's culinary scene, eating well and learning to cook Latin-inspired dishes.

In 2012, after beating the odds to successfully defend a young man wrongly accused of two attempted murder charges, Erica felt that she had achieved her goals as a public defender and decided to open her own firm, Munio & Astbury Law. Around this time, she also met and married her first husband. As an escape from the relentless pressures of the legal profession, Erica bought herself a grill, rediscovering her love of cooking in the process.

Time For a Change:
By 2014, Erica was reevaluating her career and marriage, seeking greater fulfillment in both, when she discovered an ad for wine school which piqued her interest. Deciding to immerse herself in the wine world, she began a part-time job as a wine bartender at a local cheese shop in Tampa, FL while simultaneously working at a wine store. Six months later, Erica relocated to San Francisco to attend wine school at the International Culinary Center. She threw herself into her studies for four months and one year later in 2016, began a new chapter as a certified sommelier at Napa Valley's Durant & Booth Winery. After 1 year in Napa, Erica moved to San Diego, to work as an assistant sommelier at The Marriott Marquis. In this role for a year, she was able to blend her passions for both food and wine, and continued to cook on her own time.

In 2017, Erica met Navy Lieutenant Commander Joshua Stehr in San Diego and wed him within a year. Thereafter, in 2018 she became a mother to her son, Austin. While on maternity leave, Erica juggled a new position working online at home as a contract compliance attorney and being a mother since finding daycare proved challenging. In September 2018, while working as a sommelier at Water Grill San Diego, her father suggested they open a barbeque food truck together. Though interested, Erica wanted to ensure that she had mastered different styles of barbeque first and tackled the topic with her customary level of commitment, diving into the world of barbecue competition to learn more about regional styles, but also to become a part of this unique community. In 2020, Erica attended a barbecue competition class taught by the venerable chef Harry Soo, and in the process her identity as "Blue Smoke Blaire" was born. She studied barbecue intensively and participated in her first competition Fire On the Mountain in Leburn, Kentucky. While she came in last place, Erica was proud to have competed entirely by herself and the experience only made her more determined to master the craft.

A Girl & Her Grill: Awards & Honors
When fully immersed in the barbecue world, Erica began posting her BBQ efforts on her social media accounts, including her participation at various events, and dish preparation on the grill and in her kitchen. These efforts led to her being approached by a casting agent on Instagram in 2020, and subsequently she became a contestant on Food Network's "BBQ Brawl." She won Season 2 of the show, earning the title "Master of 'Cue." After filming wrapped, Erica decided to document the world of barbecue in her award-winning digital series, "The Pit Stop with Blue Smoke Blaire," traveling the country in her RV and interviewing notable food personalities and highlighting the passion, struggles, and dreams of pitmasters around America. In 2021, Erica wrote a digital BBQ cookbook "Bayou to BBQ," featuring 33 sweet and savory recipes for the home cook. At the 2022 NBBQA Awards, the digital cookbook won 2nd place in the "Book of The Year" category and her digital series won 3rd place for "Best BBQ Series." In May 2022, Erica also competed at the famed Memphis in May World Championship BBQ Cooking Contest, the "Academy Awards of barbecue." Though it was only her second time as a competitor at this prestigious event, remarkably, she tied for 1st place in brisket and 4th in the rib division, a journey that was filmed for Food Network's "BBQ USA", airing July 2022. That same year, Erica was also named a Rising Star 2022 by Dayton Daily News.

In 2021, Erica launched Blue Smoke Blaire's BBQ sauce and rubs which retail on her website and features 4 SKUs including a Sweet Heat Rub, a Home Rub, Sweet Bourbon Sauce, and SPG Rub. In 2021, she was also awarded a highly competitive grant through the Kingsford Preserve the Pit Program which celebrates Black barbecue culture, and was also named a Pitmaster Ambassador for Pit Boss Grills, a company dedicated to creating handcrafted, customized smokers. Erica also has notable partnerships with Smithfield Foods, Dalstrong chef knives, the City of Houston Tourism Board, among others.

Erica has been featured on The TODAY Show, Dayton's FOX19 NOW, and Spectrum News, and received editorial coverage in Ebony, Dayton Daily News, Living Dayton, and more. She also filmed videos for Food Network's "At Home" series, and a BBQ Fest series with Chef Michael Symon. When she isn't behind a grill, she is flying with her husband Josh in their Cirrus SR22, spending time with their 4-year-old son, collecting rare wines and curating wine lists, entertaining with friends and enjoying time outdoors.
Read the Full Bio +
Hide the Full Bio -