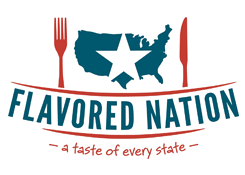 Held at the site of the 1904 World's Fair, Dome at America's Center in St. Louis, Flavored Nation will celebrate the most iconic food from each of the 50 states. Through extensive research conducted by a team of culinary experts and food entertainment veterans, including journalist and television host David Rosengartan, and Chef's Jared Bobkin and Bobby Parrish, Flavored Nation has identified restaurants and dishes from each state to appear October 27 through 29 giving up to 12,000 attendees (as well as to-be-announced celebrity guests) the chance to feast.

Flavored Nation is spearheaded by Richard Gore, who has been developing live culinary entertainment since the mid-1990s (back when food events weren't a thing) and Gatehouse Media, one of the largest publishers of locally-based media in the United States. GateHouse Live, an industry leader in event production and execution, will utilize the footprint at downtown St. Louis' Dome at America's Center to bring Flavored Nation to life – including three stages of custom entertainment.

About Flavored Nation
Flavored Nation Productions LLC, located in New York, NY, are producers of original culinary entertainment properties available through live events, video, print, digital content, television programming and merchandising. More at www.flavorednation.com.
Read the Full Bio +
Hide the Full Bio -