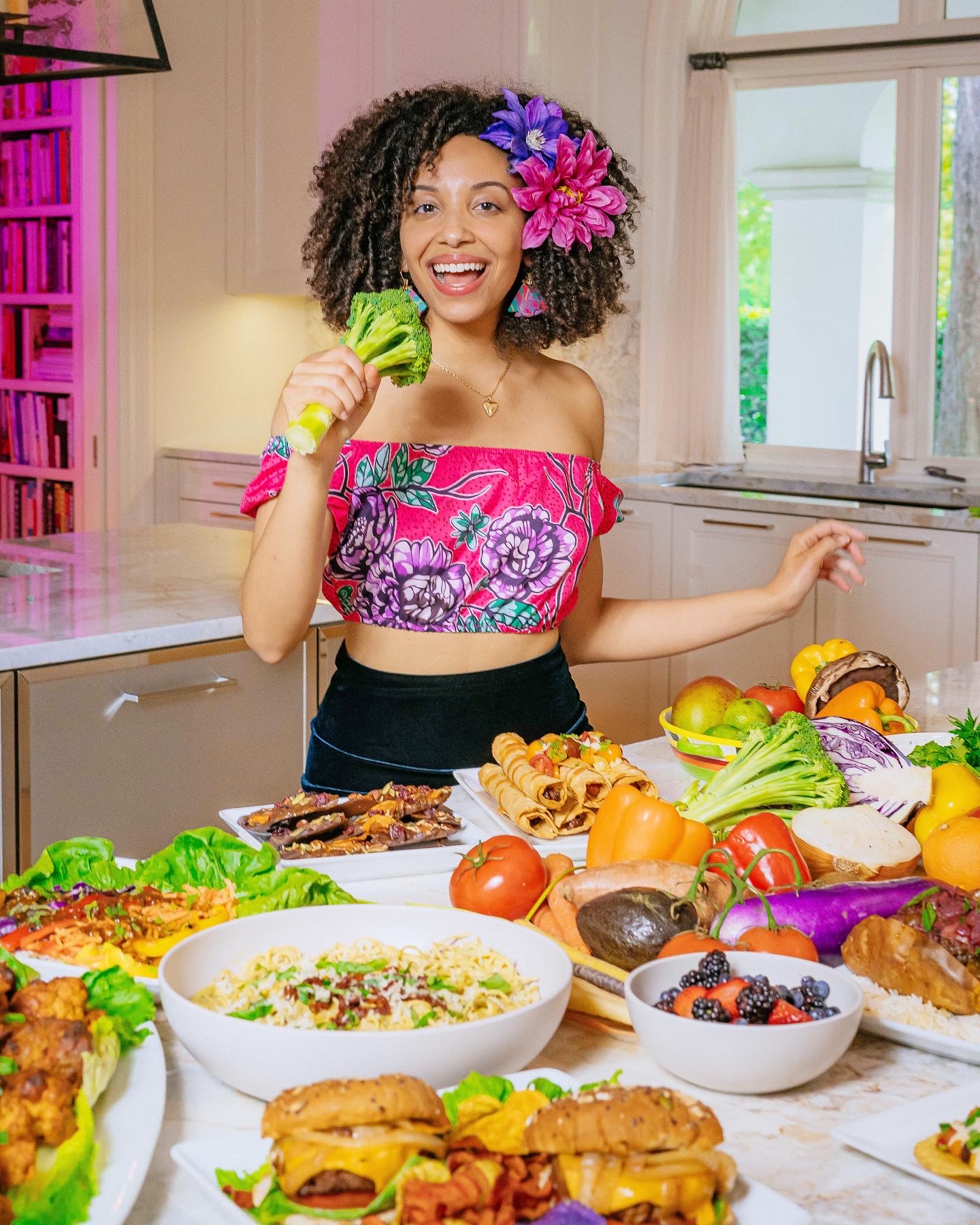 Gabrielle Reyes is an actress, singer, TV personality, recipe developer, and social media influencer with 591,000+ total followers across her social media channels, and the host of YouTube's "The Colorful Home Cooking Show." Known as "the singing chef" across the world, Gabrielle creates delicious vegan food via live cooking classes on her various  One Great Vegan platforms, sharing her favorite recipes for vibrant plant-based dishes, a colorful fusion of soul-food with Caribbean and Latin influences, each accompanied by a song and a hearty helping of joy.

Born in San Diego, CA in 1991, Gabrielle and her older sister Naomi were raised by her Haitian mother, Colette, and Puerto Rican father, Arthur, in very modest circumstances. Gabrielle learned to cook at an early age, making dishes that reflected her mixed cultural roots, simple but hearty meals that were flavorful and satisfying despite being made with inexpensive ingredients. In 1998, Arthur received his doctorate degree in Computer Science Engineering, and moved the family to Arlington, Texas to take a new job as a professor at The University of Texas at Arlington. While her father began enjoying a measure of success, Gabrielle's mother attempted to earn a nursing degree. Always extremely religious and conservative, after a nursing degree eluded Colette's grasp she became disturbingly fanatical, abusive, domineering and erratic, presenting additional challenges for her children whom she homeschooled. Collette was diagnosed with paranoid schizophrenia and later with borderline personality disorder, resulting in a childhood for Gabrielle marked by abuse, fear, and tumult, alleviated only by a close relationship with her father.

Exploring Passions Through Pain

After enrolling in public school, Gabrielle began exploring her interest in singing and acting, auditioning for her first musical. Successful at the outset, her newfound passion for entertaining and the appreciation and positive reinforcement from teachers and classmates provided a joyful escape from her difficult home environment, and she continued to flourish in high school by participating in choir and theater.

While pursuits in school provided an escape, Gabrielle's volatile home life continued to degenerate. In October 2009 when Gabrielle was 17, she and Arthur moved out of the house in anticipation of an impending divorce, while Naomi attended college. One evening in November, Arthur visited the family home to collect his belongings in advance of the service of divorce papers and called Gabrielle asking her to stop by to help with packing. Upon arrival, Gabrielle was horrified to discover that her father had been shot and killed. She called the police, telling the dispatcher that she knew her mother had shot her father, before running to her friend's house.

The trauma of the loss of her father and the circumstances surrounding his death had a profound effect on Gabrielle's life and mental health. She was subsequently adopted by Denise and Carl Wilkerson who were her best friend's parents, and dove into performing with renewed energy, determined to honor her father by living each day to its fullest. Colette was incarcerated but released on parole, and after years of litigation was declared competent to stand trial. Denied an insanity defense, she was subsequently found guilty of the murder of her husband and sentenced to 45 years in jail.

A Whole New Vegan Life

In 2011, Gabrielle was accepted to the University of Oklahoma, but the trauma of her past, a need to exert control over her life, and a devastating romantic break up all led to an eating disorder, a cycle of binging, restricting meals, compulsive exercise, and purging. This self-destructive behavior continued for months until one day, after an orgy of food indulgence, she heard her father's voice telling her to adopt a vegan lifestyle. This proved to be a turning point that showed Gabrielle how to regain agency over her life, and she began leaning into her Caribbean and Latin culture, creating simple, colorful, plant-based soul food from inexpensive ingredients. Becoming a vegan provided a path to a healthier, happier existence that simultaneously also gave her the confidence and energy to pursue entertaining.

In 2012, Gabrielle signed with Switzer Talent Agency, a local Oklahoma talent agency where she landed some of her first national commercials and movies. While taking online classes during her junior year, Gabrielle worked as an intern at the L.A.-based Reign Talent Agency and spent the next nine months living there, dividing her time working and auditioning and being cast in projects for Buzzfeed, Paramount, HBO, Netflix. When returning to Oklahoma, Gabrielle learned she was cast as the lead role in a feature film "You People" as the role of Melanie Fisher in 2014 and decided to take a break from college to stay in L.A. and pursue acting. Eventually Gabrielle returned to college in 2015 while continuing to be cast in roles in film and TV projects.

In 2016, at the end of her senior year, she met her best friend and future husband, Ace Anderson, at a festival for the Dallas Theater Center. She introduced him to her vegan lifestyle which he ultimately committed to, and together they created One Great Vegan.

One Great Vegan

In 2017, Ace helped Gabrielle grow her One Great Vegan LLC catering business and awareness began to build with the launch of her website. In 2018, Gabrielle was invited to speak on a local news station CBS 21 DFW about plant-based cooking and to promote an upcoming vegan food festival, The Texas Veggie Fair, and began to teach cooking via live stream classes on Instagram and Facebook, combining her loves for cooking and entertaining. The classes evolved into "The Colorful Home Cooking Show" and became increasingly popular, with followers responding not just to recipes that encouraged "eating the rainbow," but to Gabrielle's sunny, ebullient presence and her spontaneous songs about cooking. Gabrielle caught fire on TikTok at the outset of the pandemic, when people hungry for inspiring, feel-good content found it in Gabrielle's exuberant musical meals, which went viral on the social media platform.

Gabrielle has since been featured on the Oprah 2020 Vision Tour, as well as in national outlets including CNN, Access Hollywood, PureWow, VegNews Magazine, Good Morning America, and more. As a social media influencer, she has also partnered with global brands including Whole Foods, Kroger, and Babybel. In December 2020, Gabrielle produced her digital cookbook "Colorful Home Cooking with Gabrielle Reyes" that features 120+ music infused recipes. In 2022, Gabrielle appeared on Food Network's digital series "Crack an Egg With," which led to hosting two additional digital cooking shows, Pinterest's Vegan Flair and Tastemade's Dinner Party People, set to debut in September 2022. She also released a pop album "Blessed By Grace" with her husband Ace, and can be seen in an upcoming Paramount+ project set to release in November 2022.

The pair currently resides in Miami, Florida, where Gabrielle continues to build her brand, creating content that uplifts and inspires, developing new recipes and acting in forthcoming projects.
Read the Full Bio +
Hide the Full Bio -