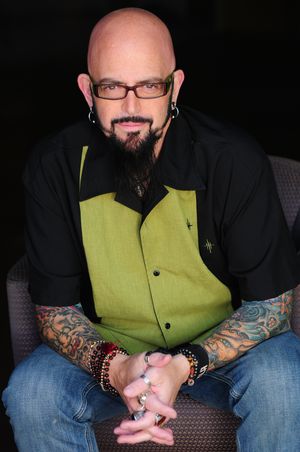 A cat behaviorist by day and rock 'n' roller by night, Jackson Galaxy, host of Animal Planet's My Cat From Hell, challenges the traditional cat lover persona with his tattoo clad arms and guitar case filled with cat toys. With over 15 years of experience working with animals, Jackson has dedicated his career to promoting a compassionate world for all animals and is working towards his ultimate goal of instilling a "no-kill" policy in shelters throughout the country.

In My Cat From Hell, currently in its 5th season, Jackson goes from home to home, helping individuals whose "out of control" cats are turning their lives and homes upside down. Jackson's community can also tune in to his Youtube channel every Monday to see his new online series, Cat Mojo with Jackson Galaxy (www.youtube.com/jacksongalaxy).   Jackson knew long ago that he had a deep understanding of animal behavior and a gift for enlightening people on how to identify with their pet's actions. With his repertoire of holistic remedies and techniques like the "Cat I Love You," Jackson can connect with even the most out of control feline and help strengthen the bond between pet and owner.

Finding a Forever Home

After graduating with a Master's Degree in Theater Arts, Jackson moved to Boulder, CO to concentrate on his music career. He worked a variety of odd jobs by day to make ends meet while he pursued his true passion, writing and performing music, each night.  This lifestyle led him down a self-destructive path of drugs and alcohol.  Jackson, battling addiction and disillusioned with dealing with other people, applied and began working at the Humane Society of Boulder Valley.

Jackson quickly became committed to his work, which was the beginning of his journey with animals. He was fascinated by the animals and studied as much as he could on cat behavior. Like the animals he encountered, he too was looking for a "forever home." One late, stormy night in the shelter, Jackson singlehandedly calmed 45 cats, one-by-one, with a concept called "Cat I Love You," a technique that opens a line of communication and trust between cat and human. That moment led to the realization that there was no turning back – the cats chose him.

In his first book, Cat Daddy: What the World's Most Incorrigible Cat Taught Me About Life, Love, and Coming Clean , Jackson details this and other events from his time at the shelter and tells the story of how his work with animals, specifically a cat named Benny, helped him overcome drug addiction and personal hardships. His second book, Catification: Designing a Happy and Stylish Home for Your Cat (and You!), will publish in October 2014.

Spreading the Mojo

After 9 years at the shelter, Jackson co-founded Little Big Cat, Inc., with Dr. Jean Hofve, a respected holistic veterinarian. Together, they gave mind-body consultations to cat guardians, focusing on the connection between physical and behavioral health.  Jackson continued his private practice after moving to Los Angeles in 2007 which led to My Cat from Hell. Working one-on-one with cats in their homes and utilizing his unique "Cat Mojo" approach to cat care, he offers clients a deeper understanding of why their cats act out and the tools to resolve their behavioral issues.

Key to Jackson's technique for understanding cats is to accept that they are not dogs and they have been trained to evoke human-like emotions. Jackson helps owners see the world from their own cat's perspective.

 A CAT-alyst for Change

While Jackson loves working with cats, his primary goal is to help save the 4 million animals that die in shelters each year.  His work in the Humane Society made him aware of the harsh reality of animal overpopulation and simultaneously convinced him that the idea of a no-kill country could become a reality. He recently launched a 'Team Cat Mojo' campaign to attract those who want to build a community focused on making life better for all animals.

To support this effort, Jackson is launching the Jackson Galaxy Foundation with the goal of cultivating a world where all animals are afforded more rights.  Jackson works closely with animal shelters and rescue organizations, teaching his Cat Mojo lecture series to volunteers, staff and adopters, and helping with both behavioral and environmental enrichment programs for their residents.

Jackson is also the president of Spirit Essences, the first and only line of holistic remedies for animals formulated by a holistic veterinarian and animal behaviorist, and will soon launch an extensive national line of lifestyle cat products with Petmate to help every owner stylishly "catify" their own space.

A Musician at Heart

An animal activist by day, Jackson has been a dedicated musician for over 30 years. He plans to continue his music career this year, recording new singles and playing benefit shows to raise money for his foundation.

He currently sits on the board of directors for Stray Cat Alliance and Fix Nation in Los Angeles and the Tree House Humane Society in Chicago. He also is on the Board of Advisors for Neighborhood Cats in New York City and Rescue Me Magazine, and is an ambassador for Best Friends Animal Society. Jackson lives outside of Los Angeles with his wife Minoo, six house cats, Chuppy, Caroline, Barry, Lilly, Pischi, and Velouria, his dog, Mooshka, and three feral friends, Oliver, Sophie and Eddy.
Read the Full Bio +
Hide the Full Bio -