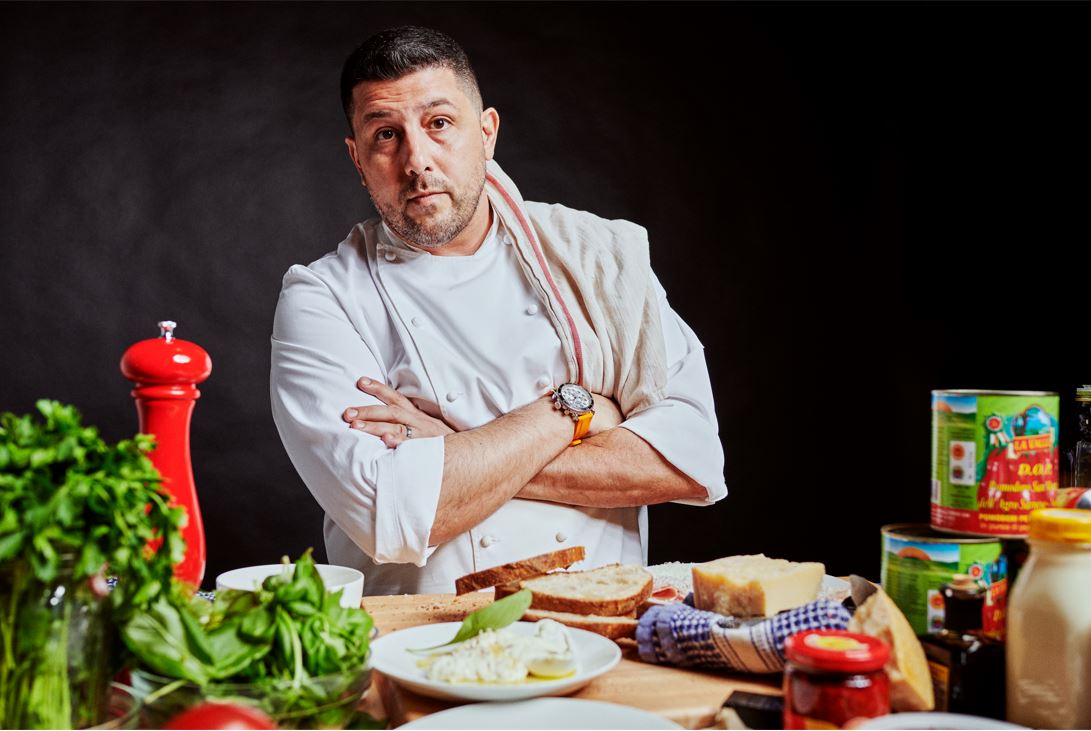 Joe Isidori is an acclaimed Michelin star chef, restaurateur, and cookbook author, best known as the co-founder and co-creator of popular restaurant franchise Black Tap Craft Burgers & Beers. Joe is a third-generation chef whose family has owned and operated restaurants in New York's tristate area since 1954, including his grandmother's renowned Manhattan restaurant The Villanova, Artie's Bar and Butcher Shop in Harlem and Artie's Steak and Liquor Lounge in Brooklyn run by his grandfather, and Arturo's Tavern in Westchester County and Peppino's in Greenwich, Connecticut run by his father.

Born and raised in New York, Joe has been cooking since he was 5 years old, though those early efforts included prepping the salad station and serving sides, both while standing on a packing crate. During those formative years, he learned to make red sauce from his grandmother and chicken parmesan by his dad, both experiences that served him well in the years to follow. At 19, Joe attended the Fashion Institute of Technology majoring in Advertising Design until his father's health took a turn for the worse, and Joe returned home to run the kitchen at Arturo's Tavern for five years until 2004. While working at Arturo's, Joe came to realize that his passion for cooking and hospitality was greater than his love of the arts, and he decided to gain additional experience in other professional kitchens. With deep practical experience already under his belt, Joe decided to further hone his skills at culinary school and was awarded a scholarship to attend the Culinary Institute of America.

After graduating from culinary school in 2000, Joe cooked in prestigious kitchens including Nemo Restaurant in Miami, Florida, and East Hampton's Pacific East. He returned to Florida in 2004 to run the Mar-a-Lago estate and Trump Hotel Collection restaurants as the company's Vice President and Corporate Executive Chef, supervising the openings of culinary ventures around the country. In 2008, Joe was awarded a Michelin star for his work at DJT, a restaurant at the Trump International Hotel in Las Vegas.

After leaving DJT in 2009, Joe began developing restaurant concepts of his own and has since opened restaurants all over the world including the sustainable seafood eatery Southfork Kitchen in the Hamptons in 2010, and acclaimed pasta restaurant Arthur on Smith in Brooklyn in 2011. In 2015, Joe opened Black Tap Craft Burgers & Beers, which quickly became a viral sensation thanks to their outrageously colorful, candy-coated, over the top milkshakes. Joe was instrumental in Black Tap's expansion to numerous domestic and international locations including Singapore, Switzerland, United Arab Emirates, et al.

In 2020, Joe helped open globally influenced Mexican restaurant JoToro at Tampa's Sparkman Wharf, and also served as one of the co-creators of Everglazed Donuts & Cold Brew, located at Disney Springs in Orlando, Florida. In spring 2022, Joe returns to the kitchen, to his youth and to his family roots with the opening of Arthur & Sons in the West Village, transporting guests back to the 1990s "old school" Italian American era with red sauce classics such as Rigatoni Alla Vodka and Joe's World-Famous Meatballs all served in a space that sets the mood via Art Deco tile, half-moon red leather booths, and photos of Dean Martin and Frank Sinatra juxtaposed with images and music of Wu Tang Clan, DMX, Rakim, and Nas.

In addition to receiving a Michelin Star, Joe has also won the New York City Wine & Food Burger Bash People's Choice Award and is a three-time NYCWFF Burger Bash winner. He has made national broadcast appearances on "The TODAY Show," "Good Morning America" and "CBS This Morning," as well as participating in various Food Network culinary competition shows such as "Iron Chef America," "Barefoot Contessa: Cook Like a Pro," "Beat Bobby Flay," and "Extreme Chef." In 2016, Joe wrote his first cookbook, Craft Burgers and Crazy Shakes from Black Tap, and plans to follow this up with a second cookbook that will share the recipes and stories from his Italian American family's three generations in New York's restaurant business.

When Joe isn't working, he spends time with his wife Louise and son Roman, 5, making Sunday gravy, eating pizza and keeping it old school!
Read the Full Bio +
Hide the Full Bio -
Joe Isidori
Michelin Award-Winning Chef, Restauranteur, Author
"Rebecca and her team at The Brooks Group have been nothing less than spectacular.  I have worked with many firms throughout the country and for the first time I finally feel heard and allowed to be myself."