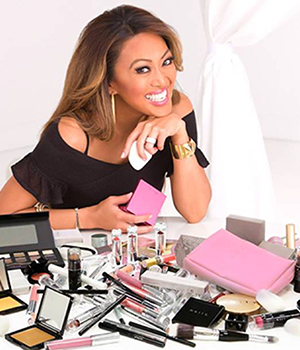 Celebrity makeup artist Mally Roncal is one of the most sought-after and beloved style-makers in the beauty industry.  Mally has made her mark with a flirtatious, fun and super-girly approach to beauty while drawing the curtains back on long-hidden "tricks of the trade."  Mally's success can be attributed to her genuine girlfriend demeanor toward everyone from her A-list celebrity clientele to her loyal Mally Beauty supporters, combined with her beauty philosophy that "the things that make us different are the qualities that make us beautiful."
Growing up in upstate New York, it was clear that Mally was destined to take on the world of beauty, experimenting with makeup on her mother from a young age.  Citing her parents as her greatest inspirations, Mally followed in their footsteps to pursue a pre-med degree, but listened to her artistic instincts and instead graduated with a fashion degree.  After school, she held a position designing for Kalinka where she met her style mentors Mathu and Zaldy, and decided to pursue her ultimate dream of a career in makeup, enchanted by its power to transform.

One of the defining moments of Mally's career was doing makeup for Beyonce.  A testament to Mally's creativity, tenacity and strength, she went against the grain and with her gut to give Beyonce a new look no other artist had yet attempted.  Mally's fresh approach earned her a multi-year professional relationship with the song and screen siren.  Since then, Mally has garnered an elite clientele that includes Jennifer Lopez, Angelina Jolie, Rihanna, Mariska Hargitay, Ashlee Simpson-Wentz and many more.
Mally's natural gift of making her clients look and feel beautiful, quickly moved her to the top of the "it" list in the beauty industry, becoming one of the most dynamic and in-demand talents.  Her ability to create a diverse range of looks, from soft and natural to dramatic and ultra-glamorous, has landed her high profile gigs at the Academy Awards, Grammy's, Golden Globes, MTV Video Music Awards, New York Fashion Week, editorial shoots for top publications and others.

Born out of her desire to share makeup secrets and offer quality, long-wearing cosmetics, Mally launched her Mally Beauty make-up collection in 2004.  With it, Mally has brought her message – and her makeup – to women everywhere.  Since its introduction, Mally Beauty has become a runaway success, frequently selling out on QVC in the U.S. and U.K., The Shopping Channel in Canada, and has maintained noted popularity at New York City's Henri Bendel.  The line has allowed Mally to pursue her passion for teaching women how easy and uplifting makeup can be, while allowing them to feel empowered and beautiful.

Always ahead of the curve, MallyBeauty.com merges e-commerce with reality through "Mally TV", an online diary where Mally shares everything from cooking tips and how to have a successful marriage, to beauty how-tos and behind-the-scenes shots of her in action.

A devoted wife and mother, Mally is known for her sparkling charm, bright smile, contagious enthusiasm and magnetic personality.  When not developing new products in the lab or beautifying a member of the A-list, she is running after her daughters, twin 4-year-olds and a 1-year-old, spending time with family, watching Oprah on TiVo, cooking, enjoying her Louboutins and shopping.
Read the Full Bio +
Hide the Full Bio -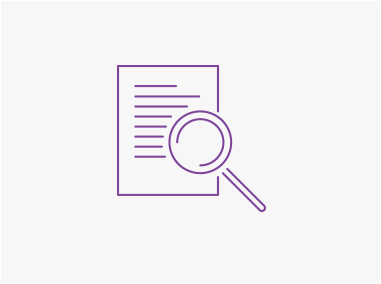 ISSUE
When Mally signed with Brooks Group in early 2009, her publicity needs were two-fold. 1) The brand's mission, providing every day women with long-wearing products that deliver professional results, needed to be conveyed via product placement and brand stories. 2) We needed to strengthen her position as a leading celebrity makeup artist AND successful beauty entrepreneur.
INSIGHT
As a veteran agency that has worked with countless beauty brands, The Brooks Group recognized that the cosmetic market is over saturated. Beauty Editors receive 50+ packages each day with the latest in cosmetics, skincare, haircare and tools. We needed to reinforce Mally Beauty as a trusted, accessible, high-performance makeup line. We were also charged with positioning Mally as the face behind the brand, elevating her profile as a business savvy entrepreneur. At the same time, we had to maintain her reputation as the leading expert for all things makeup. Due to her demanding schedule, in-person access to Mally is limited, so we needed to maximize her time to deliver the results the brand required.
IDEAS
While Mally developed relationships with Senior Beauty editors over the years, the newer crop of Editors and Bloggers knew "of" her but weren't privy to the brand story. The Assistants and Associate Editors are responsible for presenting noteworthy products to their Directors. With this in mind, we planned an event just for them. The team executed a successful Mally Beauty 101 "class" where Mally was able to tell the brand story, spotlight existing collections, and introduce the latest launches. We branded a hotel suite in NYC, facilitated 3 group sessions and designed branded notebooks and mini desk white boards for each editor. The response was overwhelming and resulted in immediate buzz on blogs and social media platforms, as well as print placements and a mounting interest in the products.
Particularly in the beauty industry, the phrase "out of sight, out of mind" rings true. So, we make an effort to ensure the media has "face time" with Mally by coordinating strategic one-on-one meetings with Senior Editors. As a result, the team has secured impactful features in Glamour, Allure, O The Oprah Magazine, Shape , Lucky and more.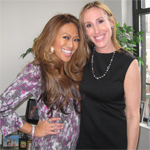 Mally Roncal
Mally Beauty
I love my Rebecca Brooks and her awesome Brookettes! Rebecca is not only a cool chick to be with, but a super professional, go-getting, make-it-happen Superwoman.  She listens, cares, gives and supports and the Delicious Ladies she has working with her follow right in her footsteps!  This agency is truly present, gets results, and really understands me and my brand.  They are smart and fierce PR.  I am thrilled with them and their awesome work  and look forward to a long and happy marriage!