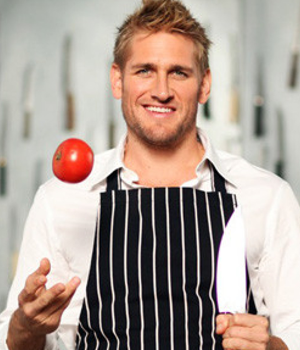 Realizing a lifelong dream, Chef Curtis Stone opened his highly anticipated inaugural restaurant Maude in February 2014, located at 212 S. Beverly Dr. Beverly Hills, CA 90212. Affectionately named after his late grandmother, the restaurant pays homage to Curtis' first culinary mentor.

Maude offers a prix fixe multi-course tasting menu, changing on a monthly basis to highlight one seasonal ingredient in each course on the menu. Dishes are comprised of the best ingredients of the season, sourced locally, wherever possible, from Southern California. Curtis' menu-less restaurant is inspired by every memorable and mind-blowing dining experience he has been fortunate enough to have, whereby the chef takes away the menu and instead serves the best combination of dishes, using the freshest and tastiest ingredients. Curtis strives to share this very special chef's table experience with all of his guests. It's his way of saying, "I got this." Maude seats only 25 diners, allowing the dishes to be strikingly detailed, delicious and appreciated in a small, intimate space. The open kitchen encourages interaction between the talented chefs and guests while further complementing Curtis' chef's table dining philosophy. Mirroring the menu, the décor is eclectic with both nostalgic and modern pieces, including old Windsor chairs, blue leather banquettes, dark stone countertops, deep stained wood and brass shelving.

Maude has received critical acclaim and garnered notable accolades as an international culinary destination from James Beard Foundation (2015 Best New Restaurant semifinalist), Travel & Leisure (included as a selection in 2014 'Best New Restaurants in the World'), Eater Los Angeles (2014's 'Restaurant of the Year'), LA Weekly (2014's 'Best New Restaurant' and 2015 'Best Restaurant in Los Angeles'), Los Angeles Magazine (four out of four star review), Angeleno and more.
Read the Full Bio +
Hide the Full Bio -