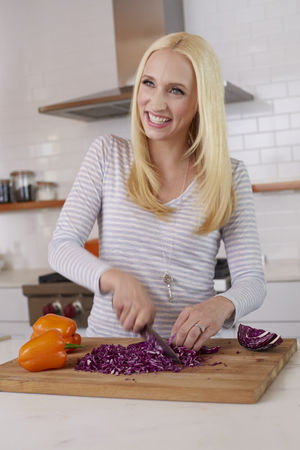 Cooking Channel personality and cookbook author, Nikki Dinki is changing the way home cooks think about vegetables by making them the star of each dish. Through her distinctive approach to cooking inventive yet accessible recipes, demonstrated on her YouTube channel, NikkiDinkiCooking, she earned the opportunity to appear on the ninth season of Food Network Star and subsequently co-hosted Cooking Channel's Junk Food Flip, with Bobby Deen. Stealing the spotlight with her unique vegetable-focused recipes, Nikki's first cookbook, Meat On The Side (St. Martin's Press, June 7th) features her semi-vegetarian cuisine and proves that with a little creativity and direction, anyone can turn ingredients like summer squash, root vegetables, and winter greens, into tasty meals that even the pickiest eaters will enjoy.

From Picky Eater to Food Obsessed

Growing up in Buffalo, NY, Nikki's food pyramid consisted only of cereal, cheese, and bread—earning her the nickname 'Picky Nikki' at the dinner table. Following high school, Nikki moved to New York City to pursue her artistic ambitions. Living in a constant state of low energy from the lack of a balanced diet and turning down one too many dinner invitations to the city's hottest restaurants, Nikki knew she could no longer continue such a restrictive lifestyle and her mission to try new foods began. Starting with the tomato, Nikki took her first taste of a vegetable since the age of 10. While it wasn't initially an easy feat, she learned she could eventually improve and expand her palette with repetition. She began experimenting with new ingredients and developing tasty recipes that used vegetables in completely new and creative ways. The more flavors she tried, the more her world opened and her relationship with food completely changed. Food became a fun, enjoyable adventure and she couldn't wait to experiment with her new found flavors.

Sharing her Perspective with the World

Nikki's journey with food gave her a unique perspective on cooking that she was excited to share with the world. A born performer with experience from years in acting, photography and writing, she combined her passions and launched a series of cooking videos on YouTube. After sharing her recipe ideas and videos, she was offered regular airtime as the food expert on NYC's WBAI 99.5 FM radio. With a growing fan base and endless recipe ideas, she needed a home to serve as the hub for her creations and founded NikkiDinkiCooking.com, where she continues to upload new "Meat on the Side"-inspired recipes every week.

Expanding her Brand

In May 2013 Nikki was selected as a contestant on the ninth season of Food Network Star, where she emphasized her semi-vegetarian lifestyle. Although her Food Network journey came to an end, her Meat on the Side philosophy resonated with viewers and she was offered her own show on Cooking Channel. In Junk Food Flip, Nikki and co-host Bobby Deen travel the country looking for the most-delicious and popular guilty pleasures that they flip into lighter dishes that are still indulgent and taste great. Her first cookbook, Meat on the Side (St. Martin's Press, June 7th) features over 100 innovative, vegetable focused recipes, all with 4oz. of meat or less.

Nikki currently lives in Manhattan with her husband Evan and a new baby, Ivy. She can often be found entertaining friends and family, tending to over 80 vegetable plants on her terrace garden or "personal produce section," and in the kitchen where she never stops experimenting.
Read the Full Bio +
Hide the Full Bio -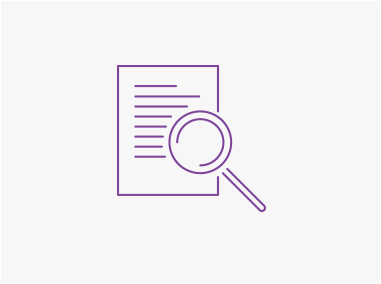 THE OBJECTIVE: 
To generate high-profile, consumer print, online, and broadcast coverage for Food Network and Cooking Channel personality, Nikki Dinki, and promote the launch of her first cookbook, Meat on the Side.
THE STRATEGY:
Nikki Dinki's personal journey with food gave her a unique perspective on cooking that she was excited to share with the world. She embarked on her culinary career by posting cooking videos on YouTube and sharing her new recipes on her blog, NikkiDinkiCooking.com. From there, she earned the opportunity to be a contestant on season nine of Food Network Star in 2013 and although she didn't win, her unique semi-vegetarian style led her to host her own show on Cooking Channel.
Although Nikki had a few star moments on Food Network, she hadn't yet made a break through to main-stream media. On the brink of becoming  a prominent food personality, she wrote her first cookbook, Meat On The Side, to release on June 7, 2016 and The Brooks Group was brought onboard six months prior to activate a successful launch. They immediately initiated an aggressive media relations approach to help generate high-profile national coverage and introduce Nikki to the majority of media in food and lifestyle spaces. The Brooks Group executed this by conducting hyper-targeted consumer outreach to national TV producers and top consumer print and online editors.
After the book launch, The Brooks Group focused efforts on keeping Nikki's name and her 'meat on the side' philosophy top-of-mind to the media. To do this, they executed a three-pronged approach, consisting of building Nikki's social media presence through opportunities like Facebook Lives and social takeovers, conducting seasonal recipe pitching, and pursuing timely opportunities, capitalizing on Nikki's ability to adapt and create new original recipes quickly and efficiently. The Brooks Group succeeded in gaining coverage for Nikki by securing broadcast and digital cooking demos, seasonal recipe features, and positioning her as a go-to vegetable-focused food expert in all proactive and reactive pitching efforts.
THE RESULTS:
Over the course of the book launch, The Brooks Group generated a variety of print, online and broadcast press in the food and lifestyle spaces, resulting in over 266,600,00 impressions. Highlights include profile pieces in Parents and Where Women Cook, recipe features in O, The Oprah Magazine, Shape, Clean Eating, The Daily Meal, Prevention.com, Parade, New You, am New York, Metro, and more.  Broadcast appearances include cooking segments with Wendy Williams, The Kitchen, Fox Foodie, Inside Edition, and a radio interview with Heritage Radio's Sharp & Hot. With a strong focus on social media, The Brooks Group also secured Facebook Live cooking demos on Real Simple, Health, My Recipe, Cheddar Life and Food on Facebook.