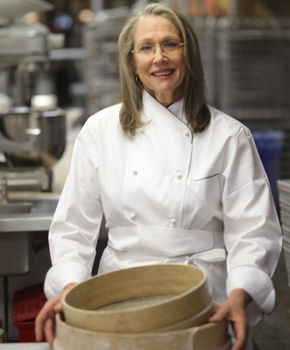 Yes, There Really Is a Sarabeth

After more than 30 years, acclaimed pastry chef, award-winning jam maker, well-known restaurateur and celebrated cookbook author Sarabeth Levine remains just as passionate and dedicated to her craft as she was on day one. Why? She attributes it all to a simple feeling: "I love it. Not just my job, but the joy it brings to so many people." And, of course, her early-learned notion that "You don't have to have a fancy kitchen to make incredible food.  Sarabeth is the driving force behind the mile-high success and stellar reputation of the hugely successful brand that bears her name – one that has become synonymous with superior tasting food made with high-quality ingredients and a special touch that often seems difficult to put into words. "The touchstone of her success is the personal care and attention Levine puts into her home-cooked foods" (New York Magazine). This self-taught "Goddess of Bakedom" trusts her palate emphatically – if Sarabeth doesn't like it, well then it's simply not going to be served. Constantly buzzing around her kitchens to ensure every aspect of the brand and business is just right, Sarabeth often pauses to pay tribute to where it all began and to the dedicated employees many of whom have been with her for over 20 years.

Made From Scratch

A true American success story, Sarabeth was the second of five children raised between New York and Florida. She graduated from C.W. Post with a degree in sociology and soon married and had two children, later divorcing but not before learning copious baking skills from her mother-in-law. Sarabeth held a variety of jobs from a nursery school teacher to a dental assistant and bathing suit designer. In 1981, she met Bill Levine, a contractor working on a new cafe that needed a special touch. Little did he know that Sarabeth had just the trick. She had never forgotten a treasured family recipe for orange-apricot marmalade that was kept secret by 'Grandmère', (her Aunt Ruth's mother-in-law) a French Jewish woman also named Sara. Sarabeth recalls grandmère making clandestine batches in the basement, and the recipe was revealed to her by Aunt Ruth long after her death. That very special recipe is what Sarabeth prepared daily for Bill's cafe, making it from their apartment kitchen and serving it proudly to rave reviews. That, of course, was only the beginning.

"Spreading Joy and Marmalade"

This apropos title of a New York Times feature story says it all. Sarabeth's perfect renditions of classic baking benefit from her never-ending search for perfection and bring satisfaction to all those who indulge. In 1996, Sarabeth was honored with the prestigious James Beard Award for Pastry Chef of the Year – a meaningful recognition of all her hard work and true love of the art. The business had taken off and knew no boundaries, expanding consistently with one achievement after the next. Now, Sarabeth's Kitchen (www.sarabeth.com) consists of a mail-order business, retail products, nine restaurants in the United States and one in Japan, a 15,000-square-foot jam factory, a state-of-the-art bakery, and a best-selling cookbook. To think it all began with a marmalade now described as being "in a class by itself … a wonderful rendition of what we should expect from jam" (Food & Wine) and "the one I reach for first" (Oprah).

Home, Sweet Home

Sarabeth's myriad products provide a sweet treat to any home and are perfect whether buying a little something for yourself or a decidedly tasty gift for anyone, anytime. With a reputation as the finest fruit spreads and jams in the gourmet industry, Sarabeth's "Legendary Spreadable Fruit" now comes in 14 unique and flavorful varieties. Less sweet and lower in calories per serving than ordinary preserves, each batch contains hand-cut fruit to avoid bruising and preserve natural flavor and texture. It's then watched carefully as it slowly simmers in small batches to thicken and reach its peak of flavor.  Sarabeth is also well-known for her treasure trove of fresh pies, pastries, cakes, cookies, bread, brownies, tarts, muffins and desserts made daily at the bakery. And, whether it's her decadent hot chocolate or her creamy tomato soup, the opportunities to enjoy Sarabeth's creations are endless.  Products are available through the popular mail order business and at more than 5,000 locations worldwide: retail stores including Williams-Sonoma, Sur la Table and supermarkets including Kings, Whole Foods, Fairway, Zabar's and Food Emporium, and Mandarin Oriental and Trump International hotels.

Around the Table With Sarabeth

A venture that began in 1981 when Sarabeth and Bill grew out of their at-home business and opened a tiny bakery-kitchen on New York's Upper West Side with just a few tables and chairs has spawned into a successful group of popular restaurants that have earned a warm spot in the hearts of native New Yorkers, out of town visitors and tourists from all over the world. In an average year, this "undisputed Breakfast Queen of New York" (New York Magazine) welcomes more than one million customers into her current locations including: four standalone restaurants in New York City: Upper East Side (opened 1983), Upper West Side (opened 1986), Central Park South (opened 2005) and the largest of all and only to house a full cocktail bar in Tribeca (opened 2011); one restaurant in Key West, Fla. (opened 2005); and four additional locations within Lord & Taylor department stores in New York (Manhattan, Scarsdale, Garden City and Manhasset). Lauded by national media and recommended in countless travel guides, these sought-after restaurants serve up breakfast, lunch, brunch, and dinner seven days a week with Sarabeth's fresh and wholesome recipes at reasonable prices. Sarabeth also operates a wholesale/retail bakery and café (opened 1998) in New York City's must-visit food haven, Chelsea Market – the location where all her New York restaurants' baked goods are carefully crafted as onlookers stare yearningly with eyes wide and stomachs growling.

Expansion Around the Globe

In November of 2012, Sarabeth opened the first international location of her namesake restaurant in Tokyo, Japan, one of the brand's strongest retail markets. Sarabeth's Lumine Shinjuku is located next to the Shinjuku Rail Road Station, which, as one of the busiest train terminals in the world, accommodates approximately 4.5 million travelers per day. The new restaurant, featuring design elements from Sarabeth's New York City locations, serves breakfast, lunch, and dinner, in addition to take-out options.

Working in tandem with Apex, Sarabeth's Kitchen also began introducing the product into South Korea and China in the fall of 2012. Local luxury cafés, 5-star hotels, and department stores are hosting a number of the brand's Legendary Spreadable Fruits, in varying sizes, as well as the Morning Crunch Granola, Hot Chocolate Parisienne and Flavored Coffee Blends. So far the most popular jam flavors include Mixed Berry and the Orange Apricot Marmalade.

Sarabeth's Secrets Revealed

In October 2010, Sarabeth came out from behind the baker's rack to finally reveal the coveted recipes for more than 100 of her signature classics in her first book, "Sarabeth's Bakery: From My Hands to Yours" (Rizzoli, $39.95). Heralded as one of the "Best Culinary Books of 2010" (The New York Times), this 320-page "must-have tome" (Ladies' Home Journal) features 11 chapters: Morning Pastries; Muffins & More; Beautiful Breads; Everyday Cake; Party Cakes and Company; Pies & Tarts; Plain and Fancy Cookies; Spoon Desserts; Frozen Desserts; Spreadable Fruits; and Frostings, Fillings & Sweet Sauces. The book also includes step-by-step photographs of classic pastry techniques, Sarabeth's tips to stocking the perfect pastry pantry, her must-have tools of the trade, and exquisite photography to give the home baker creative serving suggestions.

The Icing on the Cake

Sarabeth has taught countless classes while also frequently participating in charitable events for organizations such as Share, Share Our Strength, Careers for Culinary Arts, City Harvest, and Citymeals-on-Wheels. But, there's more to Sarabeth than just jams and pies. With her appropriately titled blog, Goddess of Bakedom (www.goddessofbakedom.com), fans gain an inside look into her creative and delicious world. She can often be found carefully rummaging through vintage culinary tools at antique shops and yard sales searching out the perfect items to add to her collection, the largest of which is an ever-growing family of nostalgic cookie jars each with a distinct personality and backstory. Sarabeth strives to maintain what she calls a work-peace balance, offsetting her long days at the bakery with hobbies like gardening, knitting, and golf. She and Bill have four children and 12 grandchildren between them, and they enjoy spending time together whether at their Upper West Side apartment or quaint home in Water Mill, N.Y. Sarabeth's favorite meal of the day? Breakfast, naturally. A center-cut slice of fresh sourdough boule with a generous portion of cream cheese and a huge pile of her marmalade, eaten longingly with eyes closed and memories of a childhood recipe that changed her life.
Read the Full Bio +
Hide the Full Bio -